The Sacred Valley is vast and stretches for miles with many small indigenous towns, Camelid farm, secluded weaving villages, and ancient Inca Ruins including Pisac, Ollantaytambo and Urubamba. The tour starts at the massive Pisac ruins with its impressive Inca cemetery of more than 2,000 tombs, engineered farming terraces carved into the mountain, the Inca tunnel and the religious area of this important citadel.
The ATV tour includes the Salt Mines in Maras which has thousands of salt ponds carved into the mountainside fed by natural springs above; and the Terraces of Moray, built in the form of an amphitheater and have different temperatures at each level to grow crops. It was watered through a complex irrigation system and allowed the cultivation of the Incas to grow over 250 types of vegetables. The tour ends at the fascinating and imposing site of Ollantaytambo, a truly impressive Inca ruin with the Sun Temple, the water fountains, the temple of Inkawatana and the impressive storehouses.
More information
Less information
Service Level:
Private van with own driver. Comfortable tour.
Physical Rating:
Thrilling ride on ATV through the sacred valley. Easy tour
Travel Style:
Adventure, ATV, cultural immersion and private van
Group Size:
Small group experience; Max 12, Avg 5.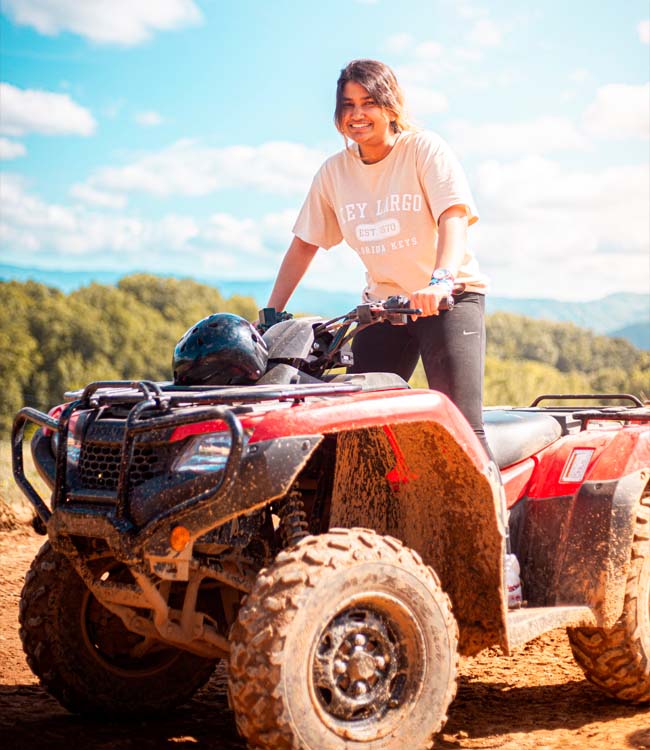 PRICES
GROUP PRICES
| | |
| --- | --- |
| # of Persons | Price Per Person |
| 2 persons | $150 pp |
| 3 persons | $127 pp |
| 4 persons | $100 pp |
***Price per person is based on the number of people in the group. When the group is finalized each person will pay based on the size of the final group. There is no guarantee of how many persons may join except the limit is 12 people per group.
***A minimum of 2 people is required to start a group.
---
What is Included Sacred Valley tour with ATV?
Small groups of up to 12 people
Professional English speaking guide with extensive knowledge of each site
Private comfortable transportation
Tax
Personal ATVs
Equipment for ATV
First aid kit.
Oxygen.
What is not Included Sacred Valley tour with ATV?
Entrance tickets to archeological sites: 70 soles (1 day only) or approximately US$20 per person which can only be purchased in soles and only at the first archeological site. (See important info for more information) YOU MUST PAY IN SOLES, NO CREDIT CARDS OR US DOLLARS ARE ACCEPTED
Meals
Salt Mine entrance 10 soles
---
Why travel with Orange Nation Peru?
We have become the leaders in small group adventure travel over the past three decades by consistently listening to our travelers and delivering what they desire: adaptable itineraries, the freedom to explore, smaller group sizes, safety and peace of mind, and knowledgeable local guides who provide unique insights into the destination that would be missed through any other means of travel.
Learn more
EXPERT GUIDES : Our expedition staff are experienced, enthusiastic and among the best in the industry - they are our secret to success
SMALL GROUPS: Travelling with us will always feel like going with friends and not with a group of strangers in an organized tour.
OUR EXPERIENCE: With fifteen years' experience and over 25 Packages to Machu Picchu alone, our team knows how to deliver a successful expedition.
ENVIRONMENTAL: ENVIRONMENTAL: Education and conservation are our passion. We aim to create lifelong ambassadors for the protection of all wilderness areas.
Travelers' Choice Awards
2022
Excellent
based on 280 reviews based on 280 reviews

Letty C
Excellent worker
Jun. 2023
Joaquín excellent 👍 Very Caballero helped me with my 🎒 offered me oxygen does very well His work ⁇ in singing to Subme to the 🐎 And what a beautiful mountain it cost me to Climb but with the Joaquín's help I did!
Mariana D
A great adventure!
May. 2023
We made 4D / 3N of the Inka Trail. The experience was challenging, but it was worth it. Chef Fortunato's meals and explanations of Jony and David's places were very complete. Tmb the patience to make sure we all get there on time.

malala08
Fast and friendly service
Dec. 2022
We did not get to specify the service due to the political situation in the country, however the company quickly and carefully proceeded with the return. Very good service and when the situation calms down we will resume service with them.
Ready to Create a Unique Dream Travel in Perú?
Recommended for you
Here you have other options that will suit your needs from the Day Tours