This day tour visits the famous archeological site of Sacsayhuaman, three more archeological sites near Cusco and the ancient town of Pisac! Sacsayhuaman with its impressive Inca military construction protected the northeastern part of Cusco from invaders and is adjacent to the large Cristo Blanco Statue above the city. We also explore the archeological sites of Q'enqo, Puca Pucara and Tambomachay, which are located on the way to Sacred Valley and Pisac.
The Inca Village of Pisac has the largest handicraft and textile market in the region of Cusco and the archeological ruins of Pisac are considered to be one of the most interesting Inca archeological sites in the country – besides Machu Picchu of course! The Inca tunnel and the Sacred Temple are constructed from pink granite. We will also explore one of the biggest Inca cemeteries with more than 2,000 tombs and admire the farming terraces built into the mountain. At the colorful Inca market in Pisac, you will have plenty of opportunities to test your bartering skills, interact with the local artisans and purchase their hand-made souvenirs, although you do not need to buy anything, but it is still fun to look around. Please note: The Cusco City Tour is only offered to our clients doing tours or treks to Machu Picchu.
More information
Less information
Physical Rating:
Easy tour of Cusco and Pisac
Group Size:
Small group experience; Max 12, Avg 5.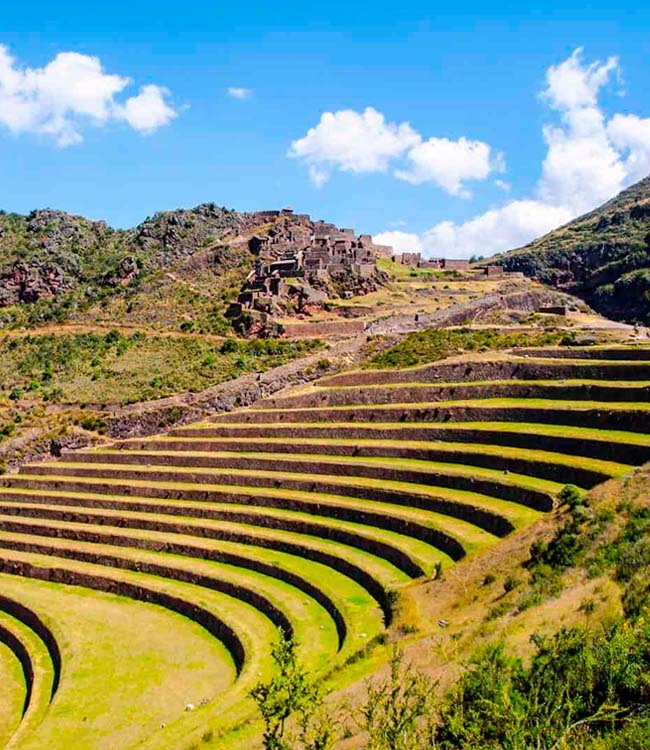 The Sacsayhuaman & Pisac Tour available on any date that its best for you as long as we have a minimum of 2 people!
| | |
| --- | --- |
| No. OF PEOPLE | PRICE |
| Group from 1 to 6 people | $ 159 USD for the total group (not per person) |
| Group from 7 to 12 people | $ 197 USD for the total group (not per person) |
---
WHAT IS INCLUDED FOR SACSAYHUAMAN & PISAC TOUR?
Pick up from your hotel
Professional English-speaking guide
Private transportation to visit all sites
Taxes
WHAT IS NOT INCLUDED FOR THE SACSAYHUAMAN & PISAC TOUR?
Entrance to Archeological sites: Purchase the Boleto Turistico (tourist ticket) is 70 soles (about $20 USD), at the first site you enter. You can visit as many sites as you like in one day with no further charge. There are no discounts with this ticket. IT MUST BE PURCHASED IN SOLES ONLY NO CREDIT CARDS OR US DOLLARS ACCEPTED
Drinks
Meals
---
WHAT TO BRING FOR SACSAYHUAMAN & PISAC TOUR?
Warm jacket
Hat
Water
Sun protection
Some money for souvenirs and food
Money in soles to purchase boleto turistico (130 soles)
Original passport
If you are a student, take your University card (only gets a discount for the 10 day boleto turistico)
Why travel with Orange Nation Peru?
We have become the leaders in small group adventure travel over the past three decades by consistently listening to our travelers and delivering what they desire: adaptable itineraries, the freedom to explore, smaller group sizes, safety and peace of mind, and knowledgeable local guides who provide unique insights into the destination that would be missed through any other means of travel.
Learn more
EXPERT GUIDES : Our expedition staff are experienced, enthusiastic and among the best in the industry - they are our secret to success
SMALL GROUPS: Travelling with us will always feel like going with friends and not with a group of strangers in an organized tour.
OUR EXPERIENCE: With fifteen years' experience and over 25 Packages to Machu Picchu alone, our team knows how to deliver a successful expedition.
ENVIRONMENTAL: ENVIRONMENTAL: Education and conservation are our passion. We aim to create lifelong ambassadors for the protection of all wilderness areas.
Travelers' Choice Awards
2022
Excellent
based on 280 reviews based on 280 reviews

Letty C
Excellent worker
Jun. 2023
Joaquín excellent 👍 Very Caballero helped me with my 🎒 offered me oxygen does very well His work ⁇ in singing to Subme to the 🐎 And what a beautiful mountain it cost me to Climb but with the Joaquín's help I did!
Mariana D
A great adventure!
May. 2023
We made 4D / 3N of the Inka Trail. The experience was challenging, but it was worth it. Chef Fortunato's meals and explanations of Jony and David's places were very complete. Tmb the patience to make sure we all get there on time.

malala08
Fast and friendly service
Dec. 2022
We did not get to specify the service due to the political situation in the country, however the company quickly and carefully proceeded with the return. Very good service and when the situation calms down we will resume service with them.
Ready to Create a Unique Dream Travel in Perú?
Recommended for you
Here you have other options that will suit your needs from the Day Tours