4-Day Inca Trail Availability & Permits 2024
The Inca Trail is a unique experience that transports you through the history and natural beauty of the ancient Incas. If you're seeking an unforgettable adventure and want to immerse yourself in Peruvian culture, the 4 day Inca Trail is the perfect choice for you in 2024.
Day 1: The Beginning of a Great Journey!
Your journey starts in the awe inspiring Sacred Valley, where you'll find yourself surrounded by majestic mountains and lush vegetation. As you venture along the trail, you'll feel the excitement and anticipation as you walk in the footsteps of the ancient Incas.
During the first day, you'll traverse incredible landscapes and pass fascinating archaeological ruins. The highlight of this day is reaching Wayllabamba, a beautiful campsite nestled amidst mountains and waterfalls, where you can rest and enjoy a delicious meal prepared by our expert cook and his team.
Day 2: Embrace Nature and Face Challenges
Get ready for a day filled with adventure and challenges! The second day of the Inca Trail is the most challenging, however the most rewarding. You'll tackle the famous Warmiwañusca pass, also known as the Dead Woman's Pass, which sits at an altitude of 4,200 meters above sea level. As you ascend, you'll be rewarded with breathtaking panoramic views and a sense of accomplishment upon reaching the summit.
After conquering Warmiwañusca, you'll descend into the Pacaymayo Valley, where you'll spend the night at a campsite surrounded by imposing mountains. You can relax, enjoy a delicious dinner, and share stories with your fellow travelers.
Day 3: Uncover the Greatness of Inca History
Today, you'll explore the ruins of Runkurakay, Sayacmarca, and Phuyupatamarca, offering fascinating insights into Inca history and culture. You'll walk along stone paved paths and mountain sides, discovering the grandeur of Inca architecture as you make your way towards the mystical citadel of Machu Picchu.
The third day culminates with a visit to Wiñay Wayna, a beautiful Inca citadel perched high on the side of a mountain. Here, you'll enjoy one of the most awe-inspiring views of the journey as you witness the sunset over the hill tops, preparing you for the climax of your adventure.
Day 4: The Magical Sunrise at Machu Picchu!
The final day of the Inca Trail begins early in the morning to ensure you arrive at Inti Punku, also known as the Sun Gate, in time to witness the magical sunrise over the breathtaking Machu Picchu. As the first rays of light illuminate the ancient citadel, you'll be filled with a sense of wonder and awe.
---
Inca Trail Permits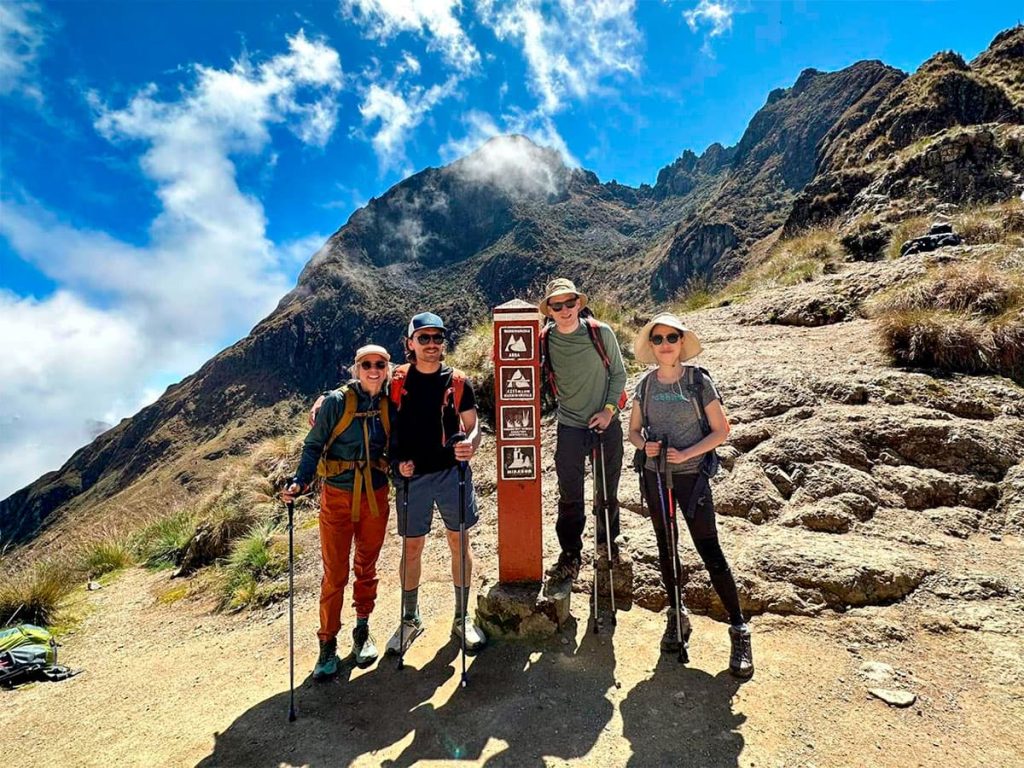 Permits for the 2024 season will be released as early as the 01st of October 2023. Give us a call now at Orange Nation to reserve your spot before they are sold out. Because of the popularity of the trek, popular dates are very lightly to sell out at a blink of an eye – so we highly recommend providing at least 3 alternative dates to maximize your chances of getting permits.
So if you want to tick the famous Inca Trail off your bucket list, then there´s no time to waste, reserve your space now! With only 500 tickets available per day, we cannot guarantee availability on your preferred dates. Tickets tend to sell-out at lighting speeds. The daily limit includes 300 permits that are solely reserved for guides, porters, and other support staff, and only 200 permits are available to trekkers.
Let Orange Nation Peru handle all your reservations, for a smooth and well organized journey. Focus on what´s really important…hiking the Inca Trail and taking in the beauty and awe of Machu Picchu.
Availability Calendar
INCA TRAIL FAQ´S
Don't miss out on this once-in-a-lifetime opportunity! Book with us and let us make your experience unforgettable. We're here to help you with everything you need and to ensure that your adventure on the Inca Trail is an unforgettable one. Don't wait any longer, book with us today!
Orange Nation Peru Team!