The Lares trek and Short Inca Trail to Machu Picchu is perfect for the traveler who wants the best of the wild Andes Mountains and also experience part of the  historical path of the famous Inca trail and  see magical Inca archeological sites like the youthful Wiñay Wayna – this trek offers the best of both worlds in 5 days!
You pass through the most isolated indigenous communities keeping the Inca culture alive, living with no road routes to the outside world. Our own unique route is incredibly picturesque, with majestic glaciers, shockingly blue glacial lakes, waterfalls, llamas, and alpacas. The Inca Trail portion is on the original Inca trail just like in ancient times, explore the ancient Inca religious cities along the way and enter Machu Picchu through the Sun Gate, where most of the famous photos of these ancient ruins are taken. For the cherry on the cake, visit the majestic Citadel of  Machu Picchu twice!
More information
Less information
Service Level:
Spacious and luxurious camping facilities. Private chef for the group. Emergency horse. Exclusive modern vehicles with private driver.
Physical Rating:
A moderate to challenging hike. Sufficient acclimatization and pre-trek training is highly recommended. One of the more moderate alternative trails to Machu Picchu.
Travel Style:
Adventure, hike, train, camping, 1 night mid-tier hotel (option to upgrade) and shuttle bus
Group Size:
Small group experience; Max 12, Avg 5.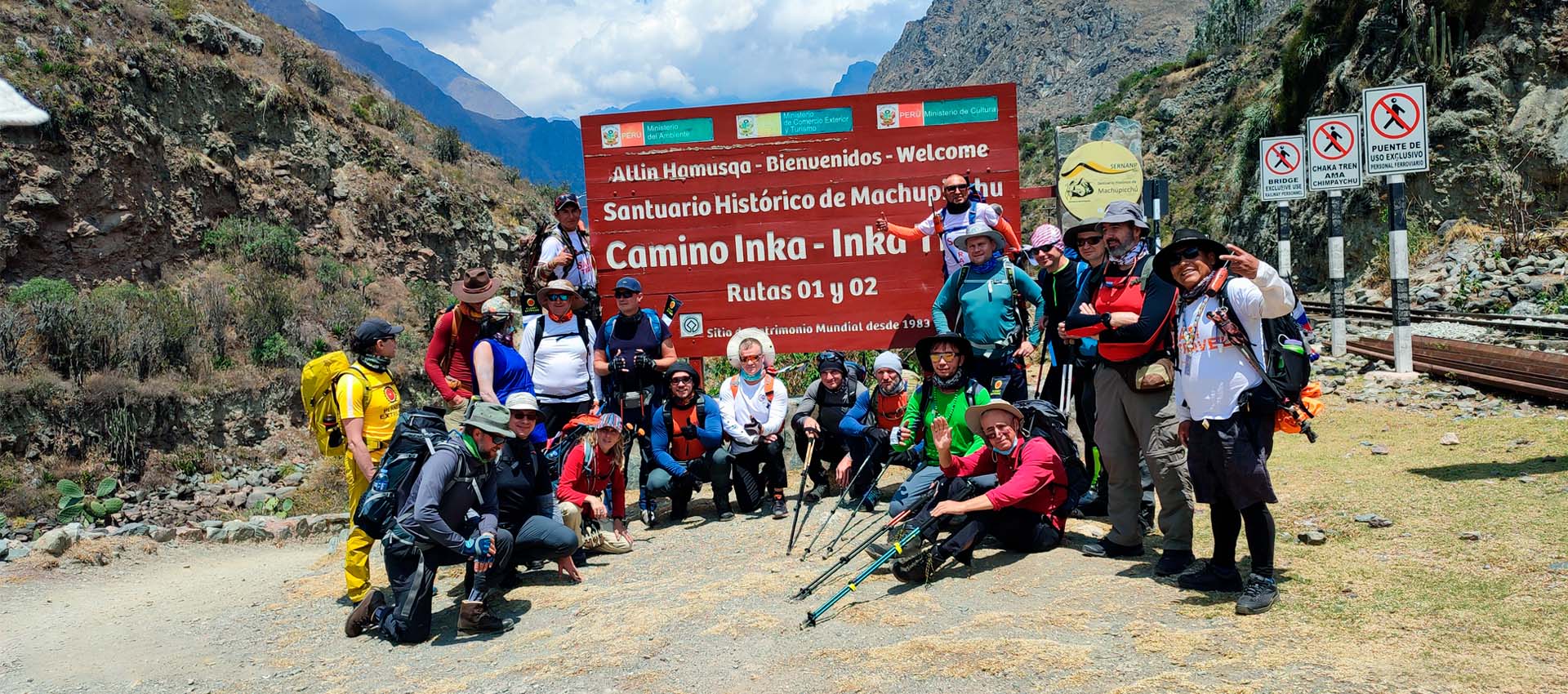 | No. OF PEOPLE | PRICE |
| --- | --- |
| 2 to 12 people | $ 697 USD per person |
***This price includes the extra pack horse which will carry your belongings up to 7 kg / 15lbs. We will provide you a duffel bag to put your belongings in.
***ORANGE NATION provides large Eureka 4 person tents for each 2 trekkers.
***Private price is $100 USD extra per person
DISCOUNTS
18 to 25 years old: $30 USD. Information required on student card: name of university, student name, photo of student, expiration date etc. A copy of the card at booking is required & government approval for discount.
Under 18 years old: $30 USD. Please send us a copy of your passport at the time of booking.
Under 11 years old: $40 USD. Please send us a copy of your passport at the time of booking.
Group of 5 people or more: $30 USD. All you need to do is book the trek together at the same time.
*** The short Inca trail to Machu Picchu is available year round except it is closed in February for maintenance — This trek takes you into Machu Picchu by walking through the SUN GATE like in the ancient times, you will explore some amazing Inca ruins along the way like Wiñay Wayna.
EXTRAS
Sleeping Bag: $20 USD per person per trek (They are steam cleaned after every trek)
Air Mattress : $20 USD per person per trek (Therm-a-rest mattresses)
Walking Poles : $15 USD per pair per trek (Professional Poles that can be extended)
Personal Tent: $30 USD – (Tent is for solo trekkers only)
Additional Night in Aguas Calientes – From $60 USD (depending on availability)
Vistadome Train Upgrade: $57 USD per person (For the return to Poroy at 4:43pm )
Huayna Picchu Mountain: $75 USD per person (Please request when you book your trek)
Hotel single supplement: $35 USD for solo travelers.
ADDED VALUES FOR FREE
Orange Nation provides foam mattresses for every hiker, camping pillow, transfer airport to hotel (only in Cusco), duffel bags, plastic liner bags, and extra blanket for the tent are included in the trek price!
EXTRA PACK HORSE is included in the price, which will carry your things up to 7 kgs / 14lbs. including sleeping bag, mattress, clothes etc. (Lares Trek portion only)
COLD BOILED WATER will be provided along the trek, there will be hot and cold water at each meal time.
OXYGEN TANK will be available.
EMERGENCY HORSE is included which can be ridden if you feel tired or sick. (Lares Trek portion only)
BEST ITINERARY operated by Lares Trek specialist only.
---
WHAT IS INCLUDED FOR THE LARES TREK AND SHORT INCA TRAIL?
Transfer from the airport to your hotel in Cusco
First breakfast
Private transportation from the hotel to the Huaran trailhead
Professional guide fluent in English, Spanish and Quechua
Round trip train ticket from Ollantaytambo to Aguas Calientes
3 Bus tickets between Machu Picchu and Aguas Calientes.
Entrance ticket to Machu Picchu
Entrance tickets to the Inca Trail
2 nights in Hotels with private bathroom, hot shower, wifi, storage and buffet breakfast included
4 person tents for every to people for space and comfort
Foam mattress and camping pillow
Delicious meals during the 5 days as indicated in the itinerary
Horsemen and pack horses to carry all camping, cooking and personal equipment (7kg / 15 lbs. of your personal items such as extra clothes and sleeping bag will be carried on the Lares Trek portion)
First-aid kit including emergency oxygen tank
Boiled water to fill your drinking bottles
Guided tour in Machu Picchu
Chef, cooking equipment and kitchen tent
Transfer back to Cusco
WHAT IS NOT INCLUDED:
Sleeping Bag: $20 USD per person per trek (They are steam cleaned after every trek)
Air Mattress: $20 USD per person per trek (Therm-a-rest mattresses)
Walking Poles: $15 USD per pair per trek (Professional Poles that can be extended)
Personal tent: $30 USD – (Please request when you book your trek)
Vistadome Train Upgrade: $57 USD per person (For the return to Cusco (Poroy) at 4:43pm)
Huayna Picchu Mountain: $75 USD per person (Please request when you book your trek)
Hotels before and after the trek
Flight tickets
Travel insurance (highly recommended)
Lunch on the last day in Aguas Calientes
Optional upgrades for hotel
Tips for the crew, guide and cook of ORANGE NATION PERU
---
WHAT YOU NEED TO TAKE WITH YOU
Original Passport (it has to be the same as the one you have used for booking your trek)
Valid university card (if you booked as a student)
Good daypack
Drinking Water: 2-3L (Please bring reusable bottles, not disposable)
Comfortable hiking
Sleeping bag (can be rented from ORANGE NATION)
Headlamp
Toilet paper
WHAT TO PUT IN YOUR DUFFEL BAG
As a Direct Local Tour operator we provide you with a duffel bag at your briefing and INCLUDE an extra porter who will carry up to 7 kgs or 15 lbs. including your 2kg sleeping bag, mattress and extra clothing.
Necessary clothes, layers for hiking
Bathing suit for the thermal waters
Warm clothes. It can get quite cold at night
Gloves (Preferably waterproof)
Small bottle of soap: we provide warm water each day to wash.
Large plastic bags will be provided at the office to line your duffel bag
Sleeping bag: It has to be at least -15ºC – This can be rented from ORANGE NATION PERU
TOILETRIES
Hand sanitizer
Wet wipes
Toothbrush and toothpaste
Personal medications
WHAT TO PUT IN YOUR BACKPACK
We highly recommend a small backpack (30 to 40L) for hiking in the day. A big backpack will not be allowed into Machu Picchu. The remainder of your belongings will be in your duffle bag at camp.
Water: Please supply your own water until the first lunch spot, then we will provide you with cold boiled water at every meal. Please bring your canteens or water bottles
Sun hat
Sunscreen
Insect repellent
Headlamp
Warm hat
Rain gear
Snacks like chocolate bars, cereal bars
Rain poncho
Gloves
Camera
Extra money for souvenirs, drinks & tips
Why travel with Orange Nation Peru?
We have become the leaders in small group adventure travel over the past three decades by consistently listening to our travelers and delivering what they desire: adaptable itineraries, the freedom to explore, smaller group sizes, safety and peace of mind, and knowledgeable local guides who provide unique insights into the destination that would be missed through any other means of travel.
Learn more
EXPERT GUIDES : Our expedition staff are experienced, enthusiastic and among the best in the industry - they are our secret to success
SMALL GROUPS: Travelling with us will always feel like going with friends and not with a group of strangers in an organized tour.
OUR EXPERIENCE: With fifteen years' experience and over 25 Packages to Machu Picchu alone, our team knows how to deliver a successful expedition.
ENVIRONMENTAL: ENVIRONMENTAL: Education and conservation are our passion. We aim to create lifelong ambassadors for the protection of all wilderness areas.
Travelers' Choice Awards
2022
Excellent
based on 280 reviews based on 280 reviews

Letty C
Excellent worker
Jun. 2023
Joaquín excellent 👍 Very Caballero helped me with my 🎒 offered me oxygen does very well His work ⁇ in singing to Subme to the 🐎 And what a beautiful mountain it cost me to Climb but with the Joaquín's help I did!
Mariana D
A great adventure!
May. 2023
We made 4D / 3N of the Inka Trail. The experience was challenging, but it was worth it. Chef Fortunato's meals and explanations of Jony and David's places were very complete. Tmb the patience to make sure we all get there on time.

malala08
Fast and friendly service
Dec. 2022
We did not get to specify the service due to the political situation in the country, however the company quickly and carefully proceeded with the return. Very good service and when the situation calms down we will resume service with them.
Ready to Create a Unique Dream Travel in Perú?
Recommended for you
Here you have other options that will suit your needs from the Lares trek