Travel Guide For Hiking To Palcoyo, The Other Rainbow Mountain
Written by
Orange Nation Perú
June 12, 2023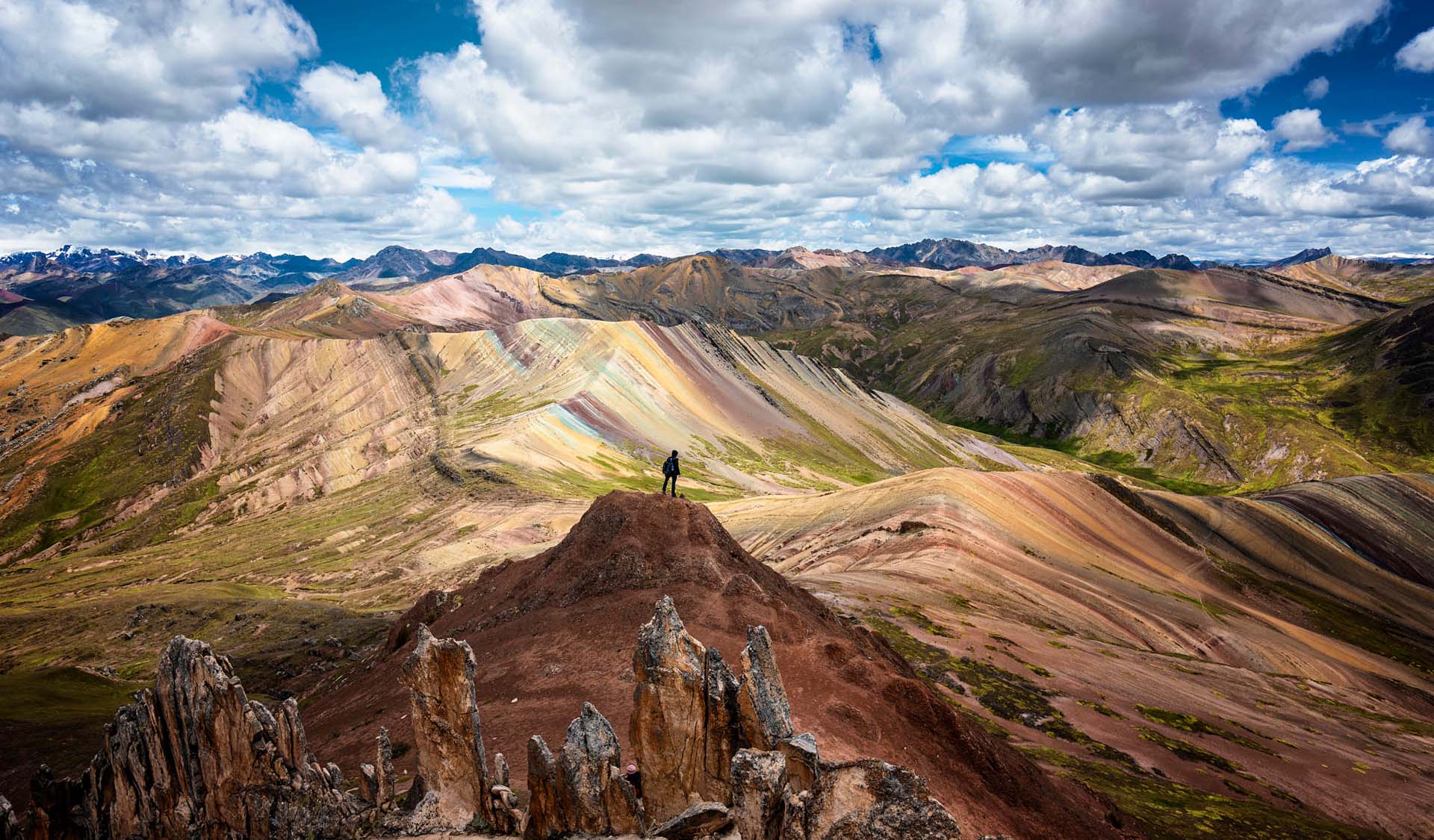 Get Off the Beaten Track While Still Discovering the Best of Peru
Palccoyo is a stunning Rainbow Mountain Valley. Yes, you read that right, Palccoy is an entire valley of Rainbow Mountains. You can enjoy captivating views of not just one rainbow colored mountain, but three. The rest of the valley is covered in a beautiful shade of red and on clear days, you can look forward to mesmerizing views of the snowcapped mountain peak of Ausangate Mountain. Ausangate Mountain (6, 384m/ 20, 945 ft) is the highest mountain in Cusco and in the top five of the highest mountains in Peru.
Palccoyo was discovered after its more famous counterpart Rainbow Mountain (Vinicunca). Unfortunately, the rapid growth in popularity of Vinicunca completely overshadowed the beauty of Palccoyo. However, if you choose to do this less visited trek, you will not be disappointed, the landscape is just breathtaking. Once at the summit, you have the option to do an extra 20-minute hike to the stone forest. The stone forest (4, 900m/16, 076ft) is an area with sharp standing stones that give an illusion of a forest made of stone.
Where is Palcoyo?
Palcoyo is in Canchi, Pitumarca District, 76 miles/ 125 km southeast of Cusco. The distance is unfortunately not the biggest challenge, there is a section where you will be driving on unpaved gravel roads. You first take a 3 hour drive to the village of Combapata, which is followed by another hour or so on gravel road to the trailhead. After, you hike for 40 minutes to an hour on flat terrain. Along the way you pass 2 rainbow mountains before the reaching the 3rd mountain, which is the summit.
Is the hike difficult?
Not at all. There is virtually minimum to no fitness required. However, you are hiking at very high altitudes, at an average of 4, 700m/ 15, 420 ft above sea level. So expect to be out of breath the majority of the time. Acclimating to the altitude is absolutely essential, we recommend spending 2 to 3 days in Cusco or the Sacred Valley before embarking on this trail.
Are there toilets on the trail?
You will first encounter toilets when you reach the control gate where you have to show your entrance tickets. Next, at the parking lot at the start of the trail are toilets you can use for 1 sole. We recommend bringing a roll of toilet paper because toilet paper is not always available. On the trail itself there are no toilets, so it's a good idea to use them at the start and on your way back.
Weather: Best time to hike Palccoyo?
Cusco mainly has two seasons, dry and wet season. Rainy season is between (December-April). Whereas dry season is between (April-November).
We recommended hiking in the dry season, when the skies are more likely to be clear, with great views of the colors of the Rainbow Mountains and other peaks like Ausangate. Of course, the top of the mountain will still be chilly even during dry season because of the high altitude. You also need to consider that the weather does change rapidly without warning in the mountainous regions of Cusco. So, bring extra layers, thermal clothing and ponchos for any unexpected rain showers. During wet season there are chances of snow, hail and fog. Its really not the best time to go and the roads are not well developed, so if the weather is really bad, tours have a high probability of getting canceled.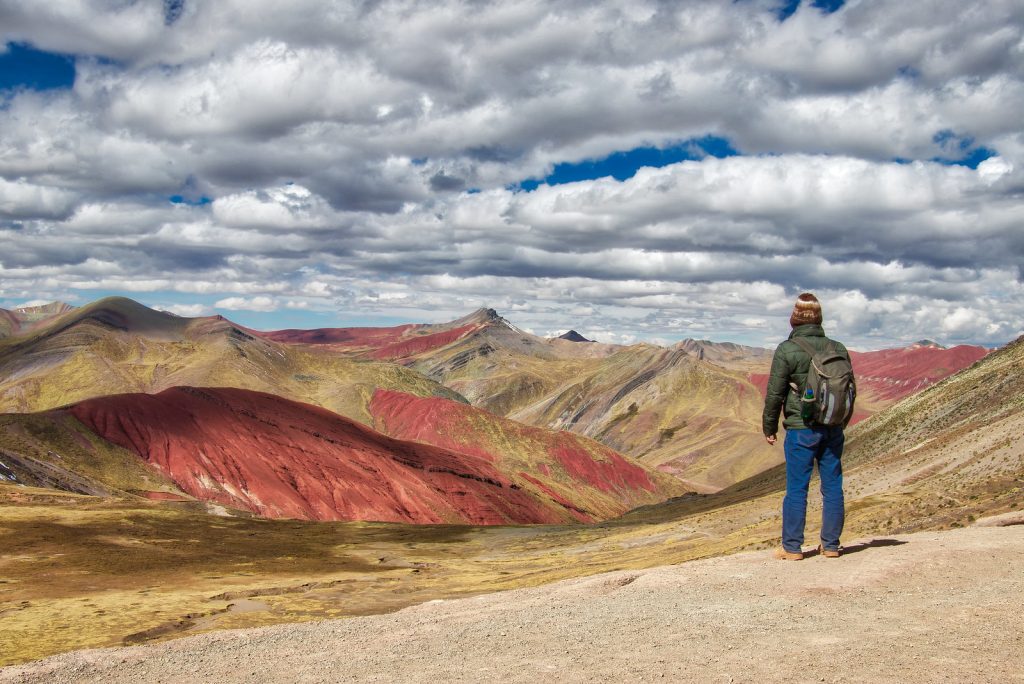 What to pack?
As the weather can change very quickly in the Peruvian highlands, it is important to be properly prepared and wear several layers of clothing.
Suggested things to wear and pack in your daypack:
Long trekking pants
Warm trekking socks (take a second pair, in case it is snowing or raining)
sport polo shirt
Long-sleeved and/or fleece polo shirt
Wind breaker
Trekking shoes (not necessary, but highly recommended)
Poncho
Sunglasses
Sunscreen
Insect Repellent
Snacks and small change for any last-minute purchases
Plenty water with a refillable bottle
Extra Jacket
Things to consider
Palcoy is less crowded than the popular Rainbow Mountain, receiving a humble 50 to 100 visitors a day. There trail is easy to follow, with the summit visible from the start. The colors are not as bright or vivid under grey skies, so we recommend considering doing this trail in the dry season. There are no horses to rent on the trail, which in turn makes the experience more authentic and less touristic.
The first rainbow mountain is only a short 15-minute walk from the trailhead. Also, you are hiking at high altitudes, so its important to take care of yourself. Drink water regularly, its easy to dehydrate without noticing at high altitudes. Walk at a considered pace and rest if you feel dizzy or nauseas. Another thing to note, is that this mountain is easier to hike compared to Rainbow Mountain and is at a lower altitude. Finally, don´t forget to take plenty of pictures, the small crowds mean unobstructed pictures.