Information About Mancora For Beginners
Written by
Orange Nation Perú
June 12, 2023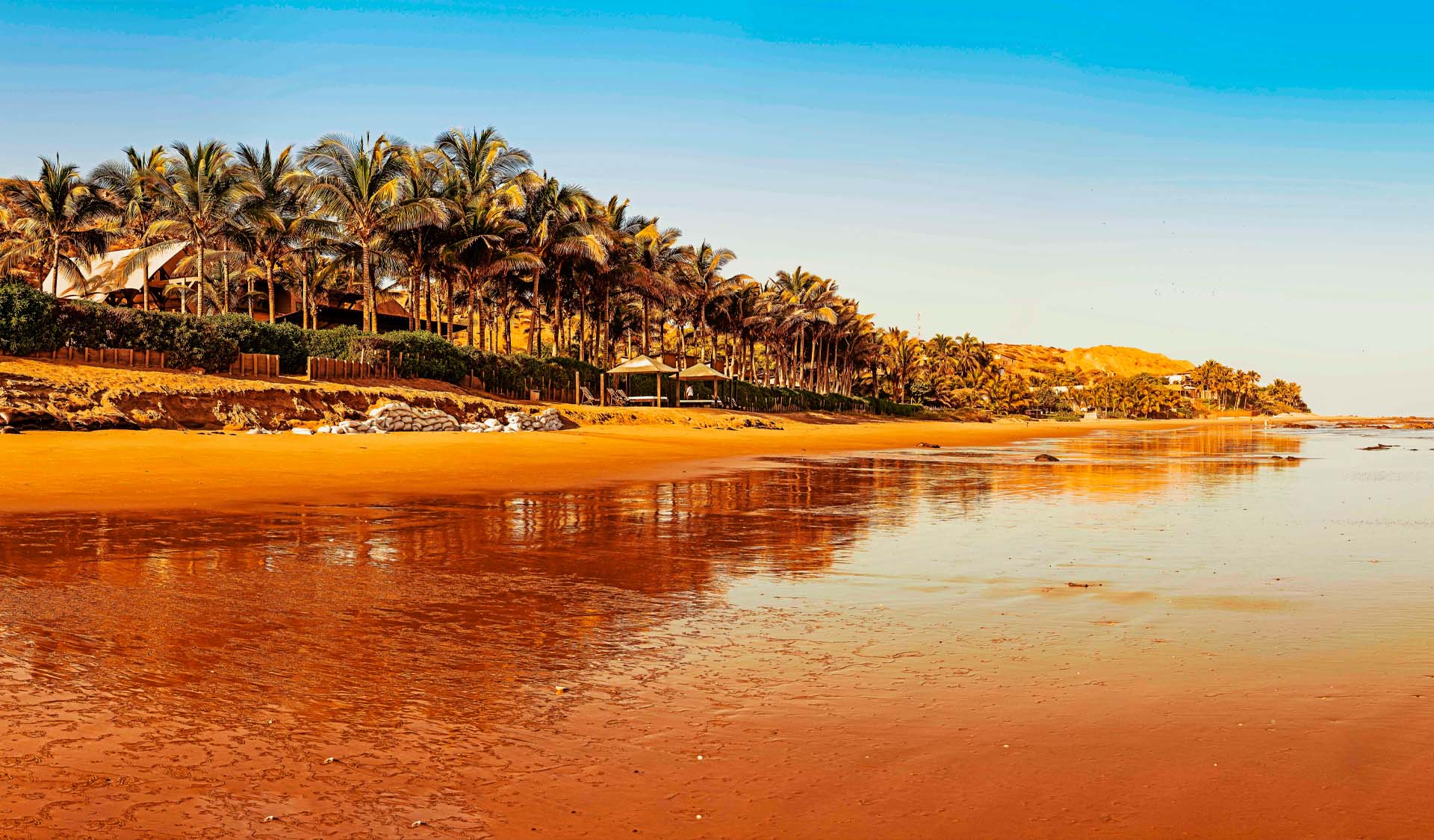 1. Mancora?
Mancora is a small fishing village with just over 10 000 permanent residents. It´s a popular vacation spot for those looking for premium surf, sun and sand. Its frequented by limeños and foreign tourists alike, as they indulge in the year-round hot climate and decadent fresh seafood. This Peruvian paradise has a variety of marine life swimming in it´s waters, including giant sea turtles, blue-footed boobies and massive Humpback Whales. Along its shores are plenty of resorts that are sea facing, for breath taking sea views and sunsets.
2. Where is it?
Mancora (Peru) is located on the Pacific coast at 1165 km of the Northern Peruvian Pan-American Highway. 120 Km South of the Peru, and 1165 kilometers north of Lima, (capital city of Peru). It´s very close to the Ecuador border. It´s frequented by visitors coming from or going to Ecuador.
Mancora is the furthest northern seaside town of the province of Talara in the Department of Piura, Northern Peru.
3. What makes Mancora so special?
There are two main standout qualities about Mancora and its surrounding beaches. Firstly, the enviable climate (300 days of sunshine a year and 60% of average air humidity) and secondly, the very good conditions for surfing and kitesurf. There are also wave breaks with waves that are small enough for beginner surfers.
Pocitas is a stunning beach that´s located in the Mancora district and is considered the most beautiful beach in Peru. Pocitas and Vichayito (continuation of Pocitas) have beautiful houses / bungalows for rent and lodgings on the turquoise seashore with green palm trees gardens.
Mancora is a real vacation spot. You never have to worry about planning or sorting out logistics. There is sooo much seafood, sample some of the most delicate and refreshing cuisine under the sun. Normally view as typical vacation town, but it has its own eccentricities that make it unique. Mancora is very small, with tons of beach resorts and hammocks for lazing around everywhere. Most accommodation places have pools and the flea markets will have at least one section of magnet seashells. Finally, to bring together the beach vibe, you can pass a handful of travelers walking around in the traditional trashy beach neon tank top.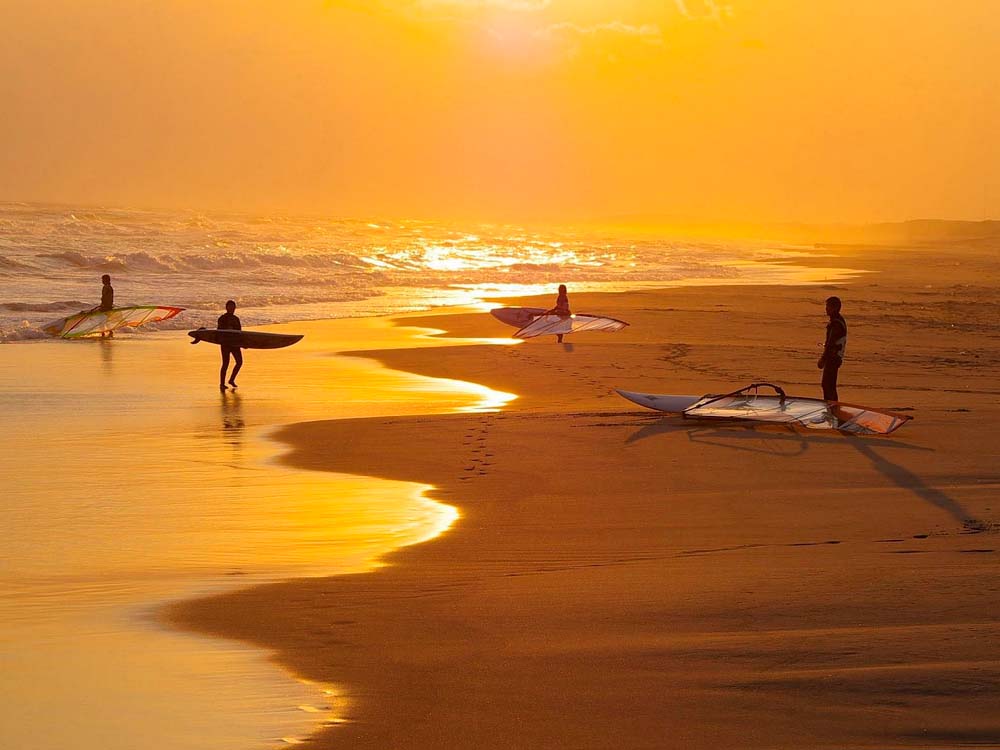 4. Is Mancora backpacker, luxurious travel and family friendly?
Mancora is a very small town and there are some amenities that are missing that could be important to most travelers. Unfortunately, high speed WIFI is a rarity here. Even though most accommodation places will offer WIFI, don´t expect it to be very reliable. Another draw back is that there is no hospital in town. If you have a major emergency, then someone has to drive you to the city of Piura, which is 3 hours away.
Now, Mancora is a hostel play ground, there are plenty of hostels to choose from. However, compared to other hostels in other parts of Peru, they are not the cheapest. But, you can find some of the best parties in Peru in these hostels. Also, if you are not into parties that go on until the early hours of the morning, then maybe its better to choose alternative accommodation. Truth is, there are other hotels in the area that charge around about the same price as the hostels and also offer great locations.
Obviously, if you have your family in tow, then hostels are not best idea. Fortunately, Mancora is relatively safe with plenty of accommodation and restaurant options suitable for all types of families. There are plenty of activities that are kid friendly, like open water diving, surf lessons, whale watching or swimming with turtles.
Finally, step into Mancoras´ lap of luxury, ranging from luxury eco lodges to stunning beach villas. These are some of the best hotels in town: Las Arennas, Kichic, and DCO suites, lounge and spa. These luxurious resorts are all inclusive with some of the most deluxe amenities around. Find yoga studios, excellent restaurants and most importantly easy access to the beach.
Mancora guarantees peace and tranquility surrounded by beautiful weather all year round.
5. Why Mancora and not the other beaches in the North(Ecuador) or South?
The beaches located to the North (Ecuador) have more tropical climates (more humidity in the air, more rain and lower average of sunny days). The beaches south of Piura have a desert climate (cooler temperatures in the atmosphere and ocean, colder winds, especially in winter, from April to December). Mancora and nearby beaches adopt the best of both climates: permanent sun without humidity, pleasant nights and warm sea temperature. The landscape is semi desert with dry forest with carob trees, that become green after a bit of rain.
Ecuador is on average more expensive than Peru and uses the US Dollar as its main currency. In addition, Mancora has a more chilled beach vibes compared to the beaches that are more south. However, we highly recommend a road trip from Mancora all the way to Ecuador. You will encounter some of the most stunning marine life in the world and the beaches are not to be missed.
Mancora is the ideal place for travelers who cross the Peru – Ecuador border and want to give a beach break before continuing their trip. Throughout the year Mancora is visited by tourists; looking for a relaxing break along a journey that full of adventure, thrill and discoveries.
6. How do I get to Mancora?
You can only get directly to Mancora and/or beaches nearby by road, through the Northern Pan-American Highway. Several bus companies from Lima, Tumbes, Piura, Guayaquil (Ecuador) and other cities of Peru get to Mancora.
The fastest and easiest way to Mancora is by air. You can catch a flight from Lima the capital city to Tumbes or Piura. The flight to Tumbes (TBP) is just under 2 hours and another 2 hour drive to Mancora. This is the closest airport, but it does have limited daily flight, so not most flexible option. Now, flights to Piura (PIU) are a lot more frequent and its about 1 hour 45 minutes flight time. The drive from Piura to Mancora is around 3 hours. You can catch a multi passenger big bus at very reasonable prices, as well as private taxis or an alternative group transport service. Between Tumbes, Mancora and Piura, you will pass many beautiful beaches that you can stop over for a relaxing swim.
Map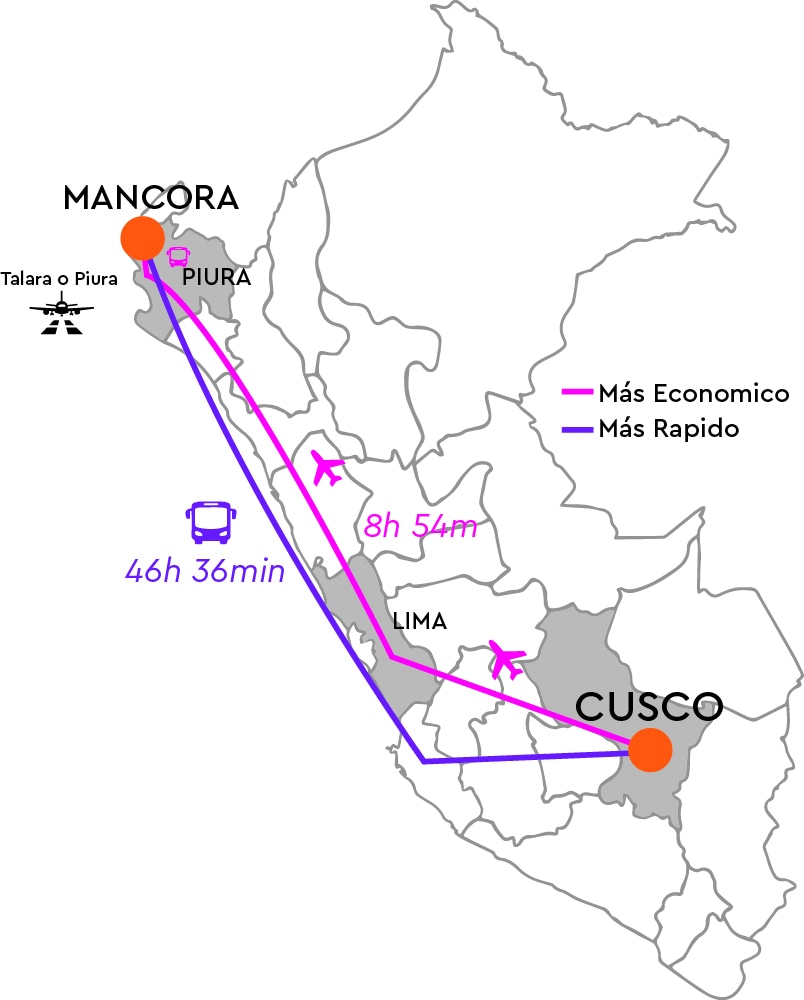 7. Where can I sleep?
Accommodation options range from simple, self-catering apartments to luxurious hotels. The best places to stay in Mancora are close to the beach, to enjoy the stunning ocean views.
Hostels
Let´s start with hostels. Now, if you are a budget conscious traveler, then we promise you most of the hostels in Mancora are not budget friendly at all. The price for a bed in a 10 person dorm ranges anywhere between 50s(14USD) to 100s(28USD). This is of cause in comparison to prices in other parts of the country. Also, note that hostels are generally party hostels. Majority of these hostels are a little cliché, in a sense that they think all backpackers want to do is party until the sunrise. Hostels are also built like resorts, with big yards, with a pool and hammock for lounging around. If you want to meet other travelers and you don´t mind the loud music until the early hours of the morning than a hostel is the place for you. The most popular spots are Loki´s and Wild Rover respectively.
Mid-Range
Next, is the mid range option hotels. Surprisingly, these places have similar prices to hostels and their private rooms can actually come in cheaper than a hostel. These places focus on basic amenities like , wifi, comfortable beds and cleans rooms. They are nothing fancy, but are great option for people looking for something simple and unpretentious to spend a few days just relaxing in a hammock or by the pool. Some places include Mancora Beach House, Jessie´s House or Aylluwasihostel among others.
Luxury Hotels
Finally, the most exclusive places are located in beaches such as Pocitas, Vichayito, Punta Sal, Punta Veleros and certain parts of Mancora. For some recommendations, look at the places mentioned above.
Other factors to take in account are seasons. It might be best to avoid super high seasons such as dates approaching New Year, Easter Holidays and July 28th (Peruvian independence celebrations), especially in the town of Mancora (not necessarily in the rest of the beaches), where the lodgings double their prices from normal or low season (rest of the year).
Many lodgings take American dollars, however it is recommended to carry with local currency (soles). Mancora has banks to change money and carry out other operations.
8. What we won't find in Mancora?
5 star hotels
Traffic lights
Traffic jams
Stress
Malls
Airports
Stores with exclusive brands
9. What activities can be practiced in Mancora and nearby beaches?
Some activities recommended in Mancora are:
Surf lessons
Kitesurfing lessons. Ideal between the months of June to December (windier season).
Excellent fresh seafood
Go to the "mud pond", a pool of hot water springs with healing properties around 40 minutes from Mancora.
Visit beaches like Cabo Blanco, El Ñuro, Lobitos and others.
Enjoy their bustling nightlife
Whale watching
Spas
Deep-sea fishing
Diving
Canopy
Jet ski rental
Yoga, Spanish classes and salsa classes
Orange NationPeru is a specialist in tours to Machu Picchu, Click here for more information!