A Guide For Hiking Machu Picchu Mountain (Montaña)
Written by
Orange Nation Perú
June 12, 2023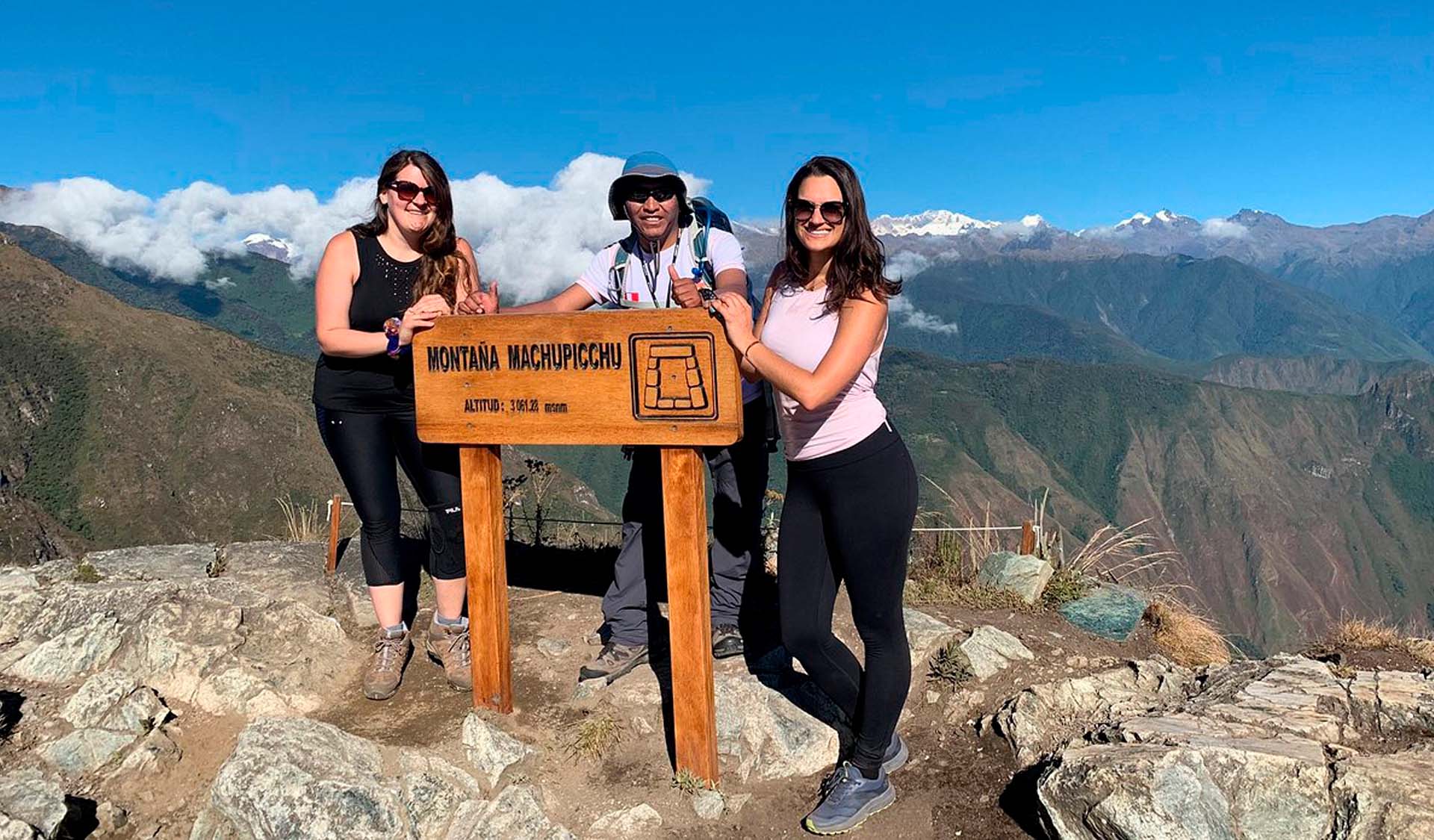 Overview
Machu Picchu Mountain is one of the two optional hikes available to anyone visiting the Machu Picchu Citadel. Machu Picchu Mountain is at a higher altitude than its sister mountain Huayna Picchu. But dare we say, Machu Picchu Mt has even more spectacular views than Huayna Picchu, with phenomenal 360° panoramic views of the scenic landscape. Located to the south west of Machu Picchu Citadel, it stands at a towering 3 082m/10 111ft above sea level. The trek offers unparalleled views of the famous Inca sanctuary and panoramic vistas of the surrounding mountain scenery. Because its not as popular as Huayna Picchu, there is always a possibility to find a last minute permit, especially during the slower wet season. At its summit Inca priests once performed rituals on special dates as well as liturgical greetings to the Salkantay Apu.
How to book the Machu Picchu Mountain extra hike
Essentially this is an extra trek hike that you can do when visiting Archeological site of Machu Picchu. Even though most reputable tour operators include a ticket into the citadel, when doing the Inca Trail or other alternative treks to Machu Picchu, you still need to purchase an extra ticket to do the hike. You are required to purchase the Machu Picchu + Circuit 3 ticket. There are only 400 tickets available a day, which are spread over two scheduled times. The ticket allows you to explore circuit 3 along the path that leads to the trailhead and guarded entrance to Machu Picchu Mountain.
2023 schedules for entering Machu Picchu Mountain
Machu Picchu Mountain has 400 spaces per day, distributed over two 1 hour entrance times. Visitors must follow the Machu Picchu Mountain route and exit the site using the same path. This is the only ticket that allows you to re-enter the circuit via circuit 3.
The first shift – 07:00am to 08:00am is perfect for people who stay an extra night in Aguas Calientes town and decide to hike to the Mountain by themself the next day or for people who want to do the guided tour at the citadel after climbing Machu Picchu Mountain.
The second shift – 08:00am to 09:00am is good for people who get to Machu Picchu from different treks such as: Inca Trail 2 days, Salkantay Trek, Huchuy Qosqo, Quarry trail, Lares Trek, Inca Jungle trek, or a 2 day train tour. This is because you start the guided tour at 6am at the Citadel of Machu Picchu until 8 am then you climb the Mountain after your guided tour.
Cost for hiking Machu Picchu Mountain
There are two options to obtain tickets. First, you can purchase the tickets yourself at 200PEN (soles) per permit, all banking and transaction fees are not included. Another option is to book with your tour operator, the fee is usually US$75 and is all inclusive when already doing a tour to Machu Picchu with them. However, its important to note that this is not a guided tour and if you wish to have a guided tour, than you need to request a guide from your tour operator in advance. A guide comes at an extra cost.
Finding the Trail Head
From the main entrance of Machu Picchu follow the upper trail heading in the direction of the Guardhouse. Small and newly erected wooden signs signal the start of the trail head, which is also the same path that leads to the Sun Gate (Inti Punku). A couple of minutes from the Guardhouse, you need to turn right. Following the trail for another 15 minutes you will arrive at the wardens hut, where you need to sign in showing your passport and entrance ticket.
It is really easy to find your way once inside the citadel because the signs lead you the entire time.
The Trail
The trail is wide and well marked. Although, you gain more elevation on this trail compared to Huayna Picchu, the climb is a gradual and steady climb. Therefore, you can look forward to a little less challenging climb, that's more family friendly, especially if you are travelling with young adults. As you slowly gain altitude, the views of Machu Picchu and the surrounding mountains become ever-more impressive. There are several views and rest points along the way.
As the trail gets closer to the base of Machu Picchu Mountain, the steps become steeper, narrower and more challenging. Winding on for another 30 minutes or so, the trail passes through a stone gateway, before following a narrow mountain ridge to the summit. There are about 1600 Inca steps to navigate, and climbing steps is never easy. A small round hut provides shelter and seating, whilst the view point (a few more yards on) offers awe-inspiring views of Machu Picchu, Huayna Picchu and Putucusi Mountains. Also, at the summit, the clouds usually settle just below the mountain, giving you the most magical views.
Difficulty
The Machu Picchu Mountain hike is considered to be a moderate to challenging hike. Following an original stone Inca Trail and continuously ascending to the summit, a good level of fitness is required. During the wet season, the trail can become more slippery making it more challenging to traverse. It is not for people with a fear of heights. In places the trail is very steep and often follows the mountain edge with sheer drop offs.
Difficulty: moderate to challenging
QUICK TIP: Peru is MORE than just Machu Picchu. Make sure you visit Paracas, home of the Peruvian Galapagos and Huacachina, the only desert oasis in South America as well as other hidden gems. Find out how to discover all this on the way to Machu Picchu here! Orange Nation can plan a unique and comprehensive trip all over Peru for you and your party.
Important Info
Time needed: ascent – 1h30 minutes accent, descent – 1 hour, 30 minutes at the summit.
Altitude of summit: 3,082 meters (10,111 feet) above sea level.
Height to climb from Machu Picchu: 652 meters (2,139 feet).
Terrain: Inca Trail stone path steps and in places grass/dirt.
Recommended footwear: Training shoes, light weight walking boots.
Entrance time: 7 – 9am.
Trail head: In the south-west of Machu Picchu citadel.
Tickets: Limited to 400 per day, tickets need to be purchased as a combination ticket with general entrance to Machu Picchu.
Best Time to Trek
Machu Picchu Mountain is accessible all year round. During the wet season (November – April) there is a higher chance of heavy rainfall and the trail can become slippery and more challenging to traverse. The region has a sub-tropical feel throughout the year, with average daily temperatures of 18 °C (64 °F).
During the dry season the humidity is around 40 – 45%, rising to 60 – 65% during the wet season. Entrance to the trek is permitted anytime from 7 – 9am daily. Early morning trekking offers cooler temperatures and better shade from the sun.
Packing list
There is one thing we can guarantee about the weather in the high jungle of Peru and that its very unpredictable. During wet season it does rain a lot more frequently, whereas the dry season has more pleasant dry days on average. However, we recommend always coming prepared, the weather can change at any moment without warning. Its best to bring clothes for sun, rain and the cold. Its best to use light weight clothes, so it does hamper your ability to keep hiking comfortably. Because of the encroaching jungle, there are tons of mosquitos and they bite mercilessly. So, we also recommend either wearing things that cover your arms and legs or use very strong insect repellent to wade them off.
Check list:
1 to 1.5 liters of water (2 – 3 personal bottles).
Sun hat, sun glasses & sun block.
Walking stick with rubber tip (if required).
Strong insect repellent.
Light weight rain coat or poncho.
Small snacks. (nuts, fruit or chocolate bars)
A change of t-shirt for the top.
Passport.
Camera.
A roll of toilet paper
Recommendations for hiking up to Machu Picchu Mountain
Use the toilets outside the Ruins ( 2 soles) each. Just be aware your permit only allows your re-entry x1 so you can't leave and use the bathroom a bunch of times.
Bring a lot of water; at least 2 liters per person, plus good snacks as there is no shop to purchase refreshments after you've entered the site. Be respectful and discreet where you choose to stop and snack, and never leave any waste behind, please.
You must be well acclimated to the altitude before trying this trek – the air gets thinner and you are going to notice the difference.
FAQs for Machu Pichcu Mounatin.
How far in advance do I need to buy the Machu Picchu ticket?
At least consider buying the ticket at least one month in advance, especially in the high season which is from May to October. But in the low season which is from November to March, you could possibly find availability at the last minute. Keep in mind that in some festivals which are in low season such as: Holy week, Christmas, and New Year, the Machu Picchu Mountain tickets run out 2 months in advance. Also, to avoid disappointment, its safer to just book early.
Can children do the Mapi Mountain hike?
There are no age restrictions to hike Machu Picchu mountain. You need to be aware that the hike does have steep sections that could be difficult for little legs. If you are bringing small children, it helps if they are athletic or at least participate in outdoor and sporting activities regularly. Also, you have to keep an eye on them on narrow parts.
Is the hike dangerous?
As long as you stick to the mountainside, This hike is safe. You must take extra care on narrow paths, especially on rainy days.
From where can I get the best view?
If your plan is to only see the Machu Picchu citadel from above, then about half way, you will have the citadel in full view. However, if you continue to summit then you have breath taking views of not just Machu Picchu Citadel, but Huayna Picchu, the surrounding glacial peaks and the lush jungle that surround Machu Picchu. Basically the summit has a complete 360° panoramic view of the citadel.
Is the Machu Picchu Mountain hike worth it?
Of course, it is worth it. You will find the answer once you arrive at the summit and enjoy an amazing view of Machu Picchu Citadel, and the surrounding lush green mountains and snow-capped peaks.
Can I hike this Mountain without a tour guide?
Yes, you can hike without a guide to the Mountain. The trail is only one way and it is very well-marked and easy to follow. If you want a guide, you can pay your travel company extra to include this a guided tour.
More blogs about Inca Trail to Machu Picchu: