Explore Machu Picchu in a Wheelchair
Written by
Orange Nation Perú
August 3, 2023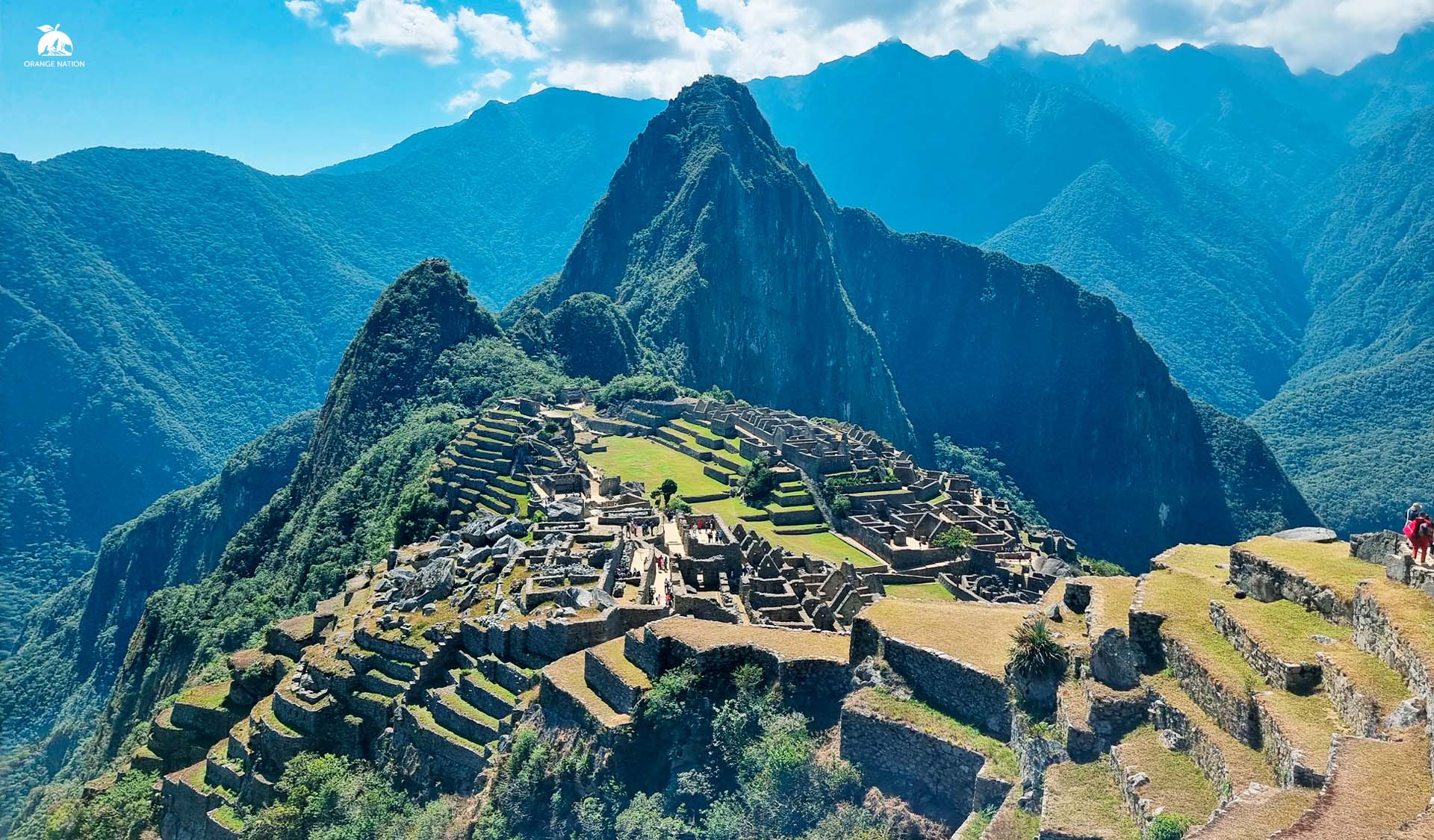 Machu Picchu, one of The New 7 Wonders of the Modern World is on most people´s bucket lists all over the world and welcomes over 1.2 million visitors annually. Unfortunately in the past, many people have called into question its accessibility to people with disabilities, particularly to those that are wheelchair bound. Finally, two Chileans, a paraplegic and quadriplegic put this to rest, by not only visiting Machu Picchu but conquering the famous Inca Trail as well.
There are almost a billion disabled people around the world. Many of which also dream of visiting the sacred citadel of Machu Picchu. Understanding that "accessible doesn´t mean inclusive" is paramount. For this reason, Orange Nation offers tours not only to Machu Picchu, but to other attraction in and around Cusco. We ensure that accessibility, safety and comfort are at the forefront of our service. Additionally, we do not lump all disabilities into one neat basket. We have implemented an individual approach to all our clients and evaluate each trip on its own merits.
Is Machu Picchu Wheelchair accessible?
Yes. Machu Picchu is located in rough hewn terrain and surrounded by the Andes Mountains at the foot of the Amazon Rainforest. Obviously its location has made its accessibility a huge challenge. Added to that, the Incas constructed Machu Picchu at a time where inclusivity was probably not a priority. Now, as a UNESCO protected heritage site, UNESCO and the Peruvian government do not allow any alterations of any kind, in order to preserve the site´s integrity. There are many narrow Inca steps inside the citadel and you are guaranteed to encounter a few barriers, which is why we highly recommend bringing a trusted companion. However, the most important thing is that you can explore to your heart´s desires, as long as you have the relevant permit.
Is Cusco and other attraction around the city wheelchair accessible?
Cusco is a colonial city and some places might be hard to navigate. The streets are made of cobblestone and some curbs are not ramped. But close to the historical center where most of the action happens, you will find plenty of wheel chair friendly establishments and getting around is easy enough. San Blas is a very popular neighborhood, but its located on a steep incline with a lot of steps. If you wish to visit this artsy bohemian neighborhood, you will need a bit of fore planning. Popular attraction like The Plaza de Armas, the cathedral, the Piedra de los 12 Angulos, Qoricancha, and the Mercado de San Pedro and Sacsayhuaman are easily accessible.
Just outside of Cusco is the Valle Sagrado or Sacred Valley. It is a tourist favorite for many reasons, including its temperate climate, its lower altitude and the many Inca ruins found along the valley. A perfect destination that´s packed with small traditional towns.
Pisac is a hop and a skip away from Cusco. In town is an extensive local market, as well as ancient ruins perched at the top of the hill. Access to the ruins is a little limited, but not by much. Two of the most popular archeological sites are the Salt Mines of Maras and the experimental farming site of Moray. Both locations are easily accessible on a wheelchair. Ollantaymbo, the gateway to Machu Picchu, has its own fascinating Archeological site. These ruins are also perched on a hill, with plenty of steps, so they do have limited access. The best way to visit the valley is by doing a day tour of the Sacred Valley, which usually includes all these amazing sites.
Wheelchair accessibility with transportation, hotels and restaurants in Cusco and Machu Picchu
Transportation: Within Cusco, you can find plenty of private taxis at very reasonable prices to take you pretty much everywhere. If you wish to explore the outskirts of the city we highly recommend choosing a reputable tour operator that uses their own private vehicles. Wherever possible a private tour is more convenient and is ultimately the best and most comfortable way to travel. When traveling to Machu Picchu transportation includes a train from Ollantaytambo to Aguas Clientes and a shuttle bus from Aguas Calientes to Machu Picchu. Both are fully accessible and are wheelchair and other disabilities friendly. To get to Ollantaytambo from Cusco, we recommend a tour operator like Orange Nation that will pick you up from your hotel lobby and drive you directly to the train station in our private vehicle.
Hotels: There are countless of hotels that are wheelchair accessible in Cusco and Machu Picchu. To avoid surprises, its best to book in advance and specify any special requirements at booking. Some of the most inclusive establishments take a number of things into consideration. Namely, the width of doorways so that they are able to accommodate a wheelchair, including the shower and bathroom. The height of the bed is also an important factor. Finally, on-hand assistance is also a possibility in selected hotels, particularly the 4* and 5* establishments.
Restaurants: There are plenty of restaurants in Cusco, the Sacred Valley and Aguas Clientes. They are diverse and eclectic, offering anything from local foods like ceviche and lomo saltado, to Italian food (pastas). They also offer simple grub, like burgers and pizzas and have these cute little cafes with specialty coffees and fresh and flaky pastries. The legacy of Spanish colonization left the country with these hacienda type of buildings. What that means is that in the center of most buildings is an open and spacious court yard that's on the ground floor and gets plenty of sunlight. Peru is famous for its world class, culinary fusion cuisine. Restaurant hopping and menu sampling is high on the must-do activities whilst in the country. So, yes we absolutely highly recommend expending your palate and sampling as many local dishes as your stomach will allow.
Extra Tips
As you can see, your visit to Machu Picchu is already a dream come true for those with reduced mobility. However, for you to visit Cusco City and Machu Picchu without any troubles, here are some tips:
Make your hotel reservations in advance. The Cusco and Aguas Calientes streets are very steep and it is difficult to mobilize in a wheelchair looking for a place to stay. Therefore, we recommend you plan your trip ahead of time and so you have a hotel on a floor with easy access.
Purchase your Machu Picchu entrance and train tickets beforehand. Machu Picchu is a destination that is on many travelers´ bucket list. The entrance tickets sell out months in advance, especially during the high season (June to September). To avoid any inconvenience, we recommend purchasing both your entrance and train tickets ahead of time.
Bring a trusted travel companion. As a country that's developing its infrastructure, there are certain places where you will need someone to assist you with navigation.
Conadis Card ( National Council for the integration of people with disabilities). This card is offered to people with a disability that creates a hinderance of some form in their lives. It´s available throughout South America and does include discounts into Machu Picchu. To apply, you need to log into gob.pe and go to the conadis section. You can apply using your passport and personal email address. After approval, the documentation is sent virtually to your email address.
Notify your travel agency at booking about your disability and any specific requirements associated with said disability
Consider doing a private tour. Not essential, but could be highly beneficial and convenient.
Mentally prepare for the trip. Cusco is a colonial city and therefore there are certain attractions where there is little or to no access. You may also need some patience in some situation. At times things don´t go as they should because of a variety of reasons.
The Cusco region is at extremely high altitudes. This means a few steep hills to negotiate and altitude sickness is part of the package. There are plenty remedies of cause to deal with altitude sickness, including staying hydrated and drinking and chewing coca leaves.
Consult your doctor before travel. Get all prescription medication at home. Also ask your doctor to recommend altitude sickness medication.
Note: The Peruvian government and all other relevant bodies continue to implement measures to promote and encourage inclusion and access to all disabled people across the city and country.
Visit destinations never before thought possible with our unique trips and carefully planned itineraries.