Travel Guide For Trekking In Huaraz
Written by
Orange Nation Perú
June 13, 2023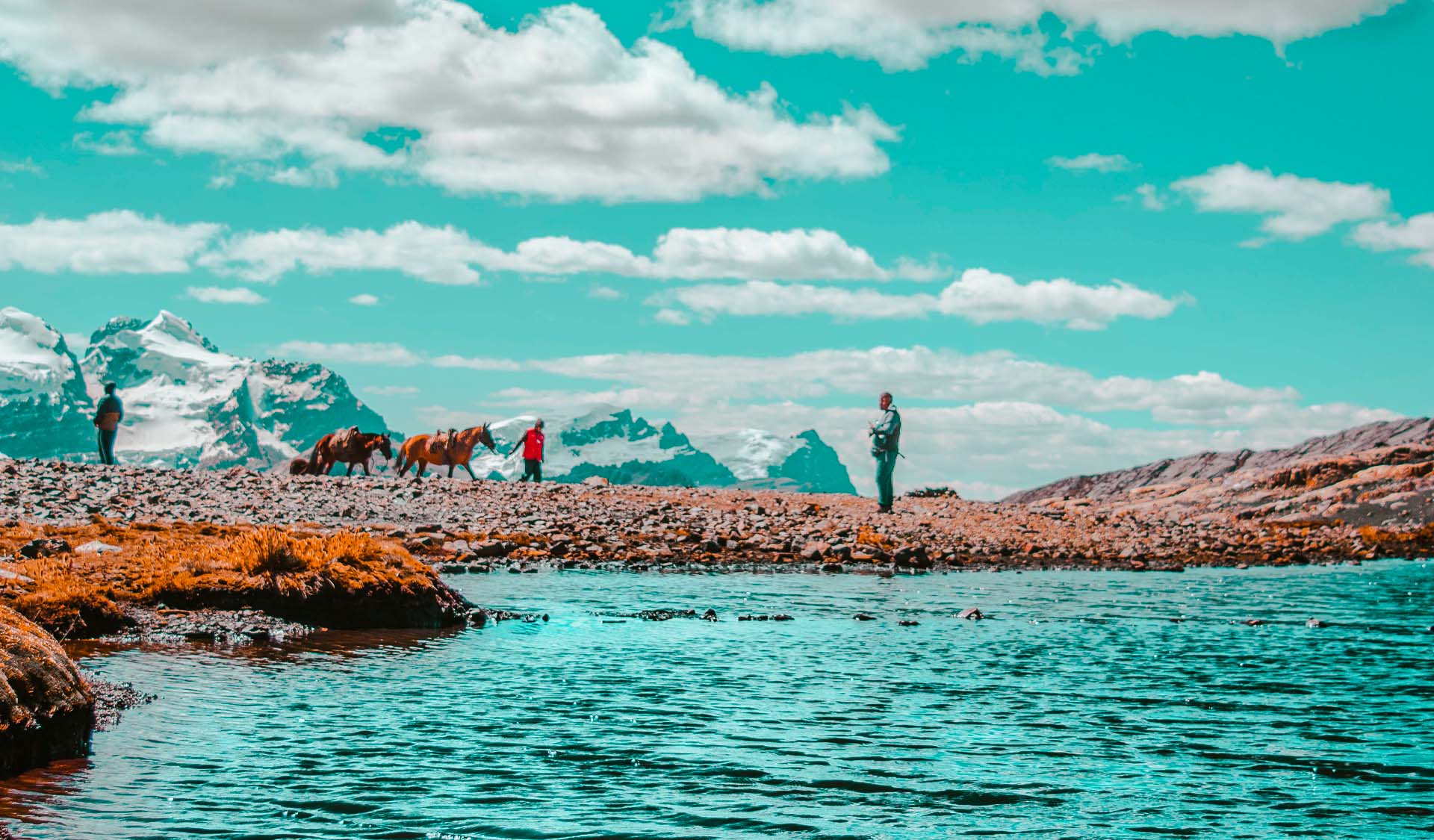 An outdoor lovers paradise that awaits all its visitors with absolutely stunning mountain scenery. Find sanctuary in the quiet town of Huaraz before venturing to its majestic mountains in the secluded and tranquil Cordillera Mountain Range.
Huaraz still remains one of the best hidden gems of Peru. Only an 8hr drive or 1 hr flight from the capital city of Lima. It is the hiking capital of Peru with some on the highest peaks in the country. The town is covered in lush vegetation and surrounded by a winter wonderland spectacle of mountain tops. Join one of the many trails that take you to any of the picturesque glacial lagoons and stunning snow brooded mountain vistas.
The Cordillera Blanca meaning "White Range" doesn´t get as many visitors as the mountain ranges in the Cusco Region, but it is home to five of the most spectacular peaks in the country, all towering above 6000m. Also find Huascaran, the highest mountain in Peru, which rises to an astronomical height of 6768m/22,205ft above sea level. Here, trekkers, rock climbers, and mountain bikers have access to world class experiences without the hassle of dealing with large crowds. Even for those who prefer day excursions with minimal walking, Huaraz will easily overwhelm them with the region's intense natural beauty.
What's the weather like in Huaraz
Huaraz has a typical tropical mountain climate, usually sunny and dry during the day and cold at nights. Average temperatures range between 11-17°C (52°F/63°F) and temperatures rarely reach and exceed 24°C (75°F). Dry season is between the months of April and November, commonly referred to as the Andean summer. Wet season is from December to March. Because of Huaraz´s cold temperatures and high altitude, it often snows in the mountains during wet season.
Best time to visit
Dry season: From April to September which are the best months for trekking. Expect clear sunny days and cold nights.
Elevation
Huaraz: 10,013 ft (3,052 m)
Huascaran Mountain Summit: 22,205 ft (6,768 m)
Santa Cruz Trek, Highest Mountain Pass: 15,912 ft (4,850 m)
Laguna 69: 15,095ft (4,601m)
Distances and Times from Huaraz
Airport: 40 minutes. 14miles (23 km)
National Park Trailheads: 1 to 3 hours depending on hike
Lima: 8 hours by Bus. 248 miles (400 km)
Lima: 1 hour by airplane
Explore the best attractions and things to do in Huaraz and the Cordillera Blanca.
Huascarán National Park
Declared a protected natural area by UNESCO in 1985, Huascaran National Park safeguards 340,000 hectares of the Cordillera Blanca. It's home to more than 27 mountains around 6,000 meters but none surpass the soaring 6,768 meter (22,205 feet) summit of Mount Huascaran – Peru's highest peak. Alongside rugged mountains are turquoise lakes, deep ravines, glaciers, and diverse fauna. With some luck you may spot local wildlife favorites like vicunas or Andean condors.
Best hikes in the National park
Santa Cruz Trek 4 or more days
There is a reason why this is the most popular trek in Huaraz. Even the drive to the trailhead will leave you gobsmacked from the bewitching views of the glaciers clinging to jagged mountain tops and the many piercing turquoise lagoons. The are four mountains that immediately catch your attention as their tips sharply pierce through the clouds, namely, Huandoy(6,395m/20,981ft), Pisco(5,752m/18,871ft), Chacraraju(6,108m/20,039) and Huascaran (6,768m/22,205ft). After passing the checkpoint in Yungay at the National Park of Huascaran, the trek opens up to a beautiful valley with grazing herds of alpacas amid river ravines around every bend of the Santa Cruz Trek.
We also pass through some traditional Andean villages. The Punta Union high pass (4,750m/15,584ft) is the highest pass in the trek, it offer breath taking and comprehensive views of all the glistening lagoons and snow brooded mountains that surround you. It gives you the feeling of being at the top of the world, in our very biased opinion, we can truly say the Andes has the most beautiful and jaw dropping views in the world. Typically organized on a 4-day/3-night itinerary, the daily walking distances, uphill climbs and high altitudes make the Santa Cruz Trek best suited for people in good physical condition.
Laguna 69 Hike
Laguna 69 is one of the most recognized day hikes within Huascaran National Park. The steep uphill hike is full of switchbacks at very high altitudes. The trail starts at La Ceballo at an elevation of (3800m/12,467ft). You keep climbing for over 5KM before reaching the stunning turquoise lake at the base of Pisco Mountain (5,752m/18,871ft). Under the glacier you will see a few waterfalls melting into the deep blue lake. The route is strewn with gigantic snow covered mountain tops including the imposing Mount Huascaran.
It is possible to do a multiple day trek to this lake, along the way, you can stop to admire other glacial lakes. There is also a campsite 2 hours from the lake with pretty handy accommodation. The rooms are dorm style with a shared hot shower, a restaurant and WIFI. The proceeds from this rest stop are used to support the nearby secluded communities. The benefits of overnighting, is that you can go to the lake just after sunrise. The highest pass is at 4,850m and you may spot the threatened Andean Condor soaring above.
The views are out of this world and lake itself sits at 4,604m/15,105ft above sea level.
Llanganuco Lakes
Llagunuco is made up of two lakes located in the Cordillera Blanca in the Ancash Region, Yungay province and district, about 2km north east of the city of Yungay. The lakes form part of the Huascaran National Park. The llagunuco valley is flanked by a group of mountains including the highest peak in Peru, Huascaran Mountain at a staggering elevation of 6,768m. Other peaks include Huandoy, Pisco, Chacraraju, Yanapaccha and Chopicalqui which range anywhere between 5,700m and 6,300m above sea level.
The two main lakes are Chinancocha and Orconcocha (3,850/12,631ft), with a smaller third lake that separates the two lakes. This lake came to be after the 1970 earthquake caused a major avalanche. The first lake is Chicancocha and it offers rowing boat tours to get across the lake, after the second lake you will find a park area with a restaurant and a lookout point called Yungay for the most panoramic views of the snow capped Huascaran peak.
Chinanconcha (depth=28m / width=393m / length=1450m)
Orconconcha (depth=7m / width=390m / length=910m)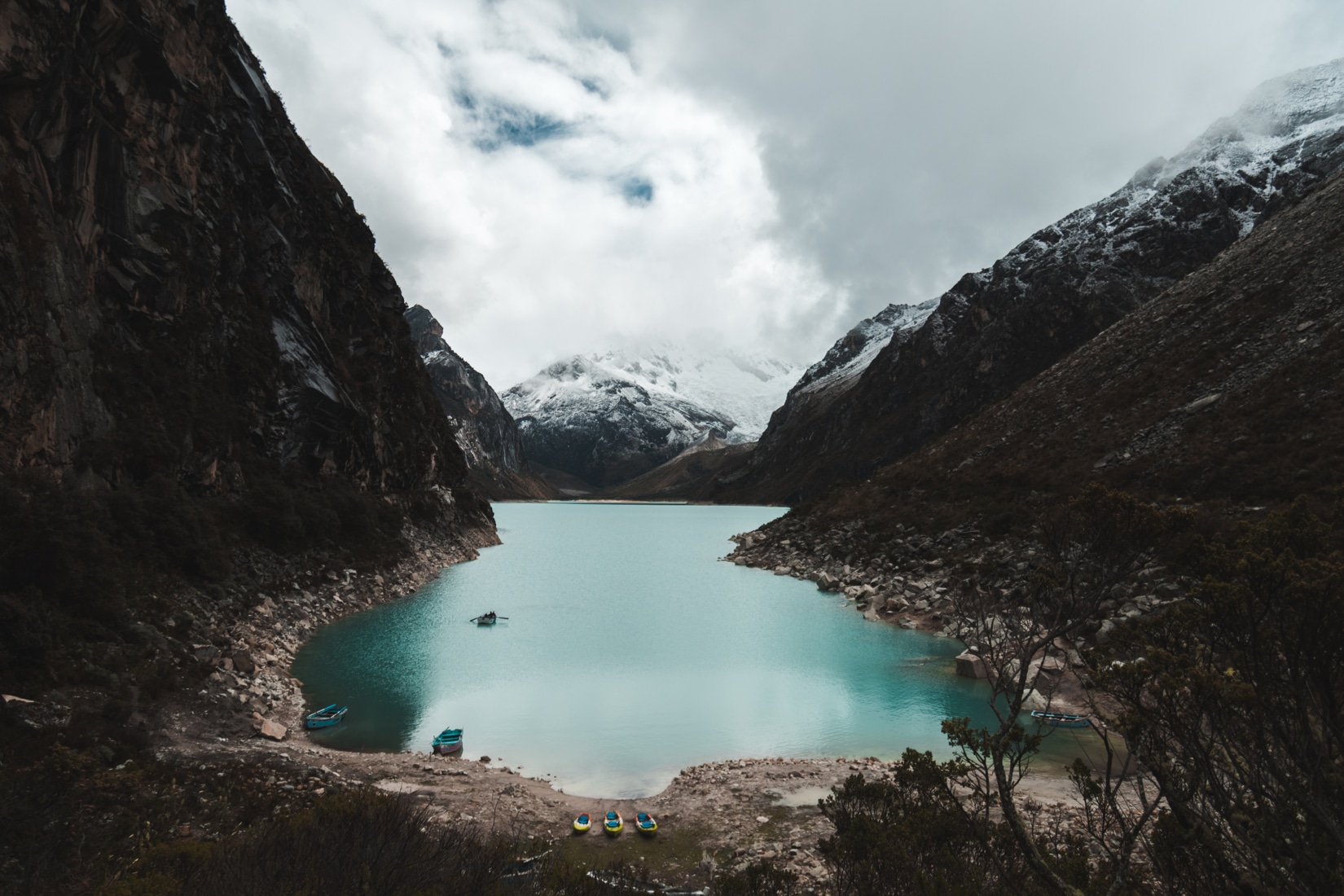 Top attractions and tours in Huaraz?
Rock Climbing
There are several places in Huaraz to practice bouldering or sport rock climbing with varying levels of difficulty.
Los Olivos: It is a classic rock climbing place close to the city of Huaraz. It has multiple routes and a good atmosphere with beautiful views of the City of Huaraz and the Cordillera Blanca.
Chancos: It is located 40 minutes north of Huaraz. It was developed thanks to the "Don Bosco 6000" guides in 1997. It is a good place to spend a quiet day with nature and to relax in the thermal baths after climbing.
Antacocha: This is a multi pitch climbing area in a steep east facing side of the "Cordillera Negras", a mountain located just over Antacocha Lake at 3,800m/12,467ft above sea level. It has several multi pitch routes of up to 180m, with grades ranging between 6a and 8a. The top of the cliff is at 4,200m/13,780ft above sea level. There is a convenient camp spot near the lake, so you can spend a few days scaling the rocks.
Hatunmachay: The stone forest of Hatunmachay is located 75 km south of Huaraz, here we find one of the most impressive geological attractions located at 4,200m above sea level in the Cordillera Negra between Huaraz and Conococha. It is the largest sport climbing area with over 300 routes. There is a great mix climbing grades, ranging from 4a all the way to 8b with a heavy concentration of the 6a and 6c range.
The area also offers incredible sunsets, Inca ruins, caves with carvings and is located in stunning isolation. You can also spend a few days here improving and testing your rock climbing skills.
Chavín de Huántar
In a region where nature gets most of the limelight, the archaeological site of Chavin de Huantar (near Huaraz) reminds us of the early human civilizations that called these mountains their home. This pre-Inca complex is a UNESCO site that served as a ceremonial and pilgrimage center. The lithic art and symbolic carvings that decorate the plazas and columns are among its most significant features.
At Chavin de Huantar visitors can marvel at the rich history and culture of the Chavín civilization. which is believed to have developed from 900 BC to 200 BC. The site consists of the main pyramid-shaped temple that presides over a large plaza. Walls were constructed from large stone slabs, polished and stacked on top of each other. One of the Chavin site's most extraordinary facets is the abundance of stone art, carvings, sculptures, pottery, and tenon heads, decorated with plant, animal, and human motifs. Depictions of jaguars, monkeys, serpents, eagles, and caimans are common.
Beneath the pyramid structure is an enigmatic maze of underground passageways with a single entrance. Small ducts circulate air into the tunnels and transmit sun beams from the outside, creating plays of light and shadow on the carved iconography of the gray stone walls. The passages also display remarkable acoustics; the sound of water rushing into the temple via small canals becomes amplified and replicates the roar of a jaguar. Most thrilling of all is the Lanzón de Chavin, a knife-shaped stone monolith carved with the figure of an anthropomorphic god with a feline mouth and a head of snakes.
First excavated by the famed Peruvian archaeologist Julio C. Tello in the early 1900s, Chavin retains many of its mysteries. The ruins feature a museum which boasts a number of original artifacts, but many have been taken to museums in Lima and replicas put in their place.
Huayhuash Circuit Trek
This is probably one of the most underrated treks in the entire country of Peru. It is important to be well acclimated before embarking on this trek because you will consistently hike at altitudes above 4,000m/13,123ft, with multiple passes that exceed 5,000m/16,404ft). This enchanting yet challenging journey goes around The White Wash Mountain Range within the regions of Ancash, Huanuca and Lima. The Huayhuash circuit boasts an impressive collection of diverse species with over 199 species of fauna, 134 species of flora, 25 lagoons and around 51 mountain peaks between the range of 5,000m and 6,625ft above sea level.
You can choose any of the varied treks on offer, from 8 to 12 multi-day treks. The most notable peaks on the trail are Yarapaja Chico(6,121m/20,082), Jirishanca(6,125m/20,095), Siula Grande(6,344m/20,814ft) and the second tallest mountain peak in Peru, Yerupaja Grande(6,635m/21,768ft). Visit Vicando thermal baths, located just over the Portachuelo pass near the isolated village of Tupac Amaru. To enter the hot springs you need to pay a fee of 20 soles, which helps sustain this very small community.
Enroute, take on the challenging and equally rewarding experience of climbing two of the highest passes in Peru, the San Antonio Pass and Gran Vista pass both located over 5000m above sea level. The climb to both passes is absolute hell and the preceding steep slope ascents even more so. However, the stunning views of the panoramic landscape at the top is truly out of this world. Marvel at the comprehensive views of all the giant snow covered mountains, which stand taller than the clouds. It gives you this overwhelming feeling that you can touch the sky by simply lifting your arms.
The never ending bright turquoise lagoons are definitely something to write home about. There are too many to name, but some of the most memorable are the Sarapocacha and Jahuacocha lagoons. There are pristine lakes, snaking river streams, waterfalls and you will even come across a small canyon created by the gushing waters from the melting icecaps.
This trail is completely isolated and off the beaten trek. Beside the two communities you pass along the way, this entire trek is completely desolate, with just you, nature and the most breath taking landscape you will ever experience in your life. It is imperative that you are in good physical condition to take on trek, its not for the faint of heart. There are days where you will need to keep going using nothing but sheer will power.
Trail Running
Each year a growing number of events bring runners to the Cordillera Blanca. These include the 45K Sierra Andina Chavin Trail and the Sierra Andina Mountain Trail.
Pastoruri Glacier
The Cordillera Blanca is home to some of the highest tropical glaciers in the world. In total, the range tallies over 700 glaciers, and one of these ice masses is Pastoruri. Like many destinations within Huascaran National Park, Pastoruri resides in a very remote location and there is no direct public transportation to get there, so the best way to reach the glacier is by tour.
Santa Cruz Trek Info
Learn more about the Santa Cruz Trekking, one of the most popular treks near Huaraz.
Violeta from Chavin Tours in Huaraz answered some common questions about the Santa Cruz Trek:
Why is the Santa Cruz Trek so popular in Huaraz?
The Santa Cruz Trek takes you to beautiful areas full of nature. The trek follows a path with breathtaking views, quenual forests, lagoons, rivers and other attractions of the Santa Cruz ravine.
What are unexpected highlights along the Santa Cruz trail?
Definitely all the spectacular views of the Cordillera Blanca. It's breathtaking!
What is the most challenging day of the trek? Why?
The third day is the most difficult one as the highest point of the trail goes over a mountain pass of 4,750 msnm. High altitude trekking is always a challenge!
The Santa Cruz Trek is best suited for what type of outdoor lover?
The Santa Cruz Trek is one of the best in the region and is suited to trekker in good physical condition. Training in advance is a must as it's a high altitude trek. There is also others good treks such as Cedros Alpamayo and Huayhuash that are also challenging!
Quebrada Llaca
Llaca Valley is one of the most under used hikes and lakes on the southern side of the Cordillera Blanca and is characterized by a celestial blue glacial lake surrounded by the three glaciers: Oshcapalca, Ranrapalca and Vallanaraju.
Llaca is one of the few hikes that allows you to get close enough to the glaciers to notice their sounds and movement, which can be very ethereal. In the Llaca Valley you also find a dense forest of endangered Polylepis trees which serves as a habitat to birds that are rare in the area, such as the Giant Conebill and the Pied Crested Tit-Tyrant to name a few.
Years ago a road was built to facilitate building a dam to help control the lake level as the melting of the glaciers created a surplus of water. After the road was built the park service built a refugio in hopes it would bring more climbers, but it hasn't happened. Currently the refugio is rarely open to the public and is used by the Casa de Guias (a local guide association) for large group climbing courses, wilderness first aid courses and training exercises for the Peruvian military for outdoor rescue. The road is hardly used due to its rough condition and currently the only traffic you'll find are hikers or climbers that are headed to the base camps to climb one of the surrounding peaks.
While the day hike is a mix of rough road and single track it's worth visiting for its dramatic natural beauty, peaceful solitude, and proximity to Huaraz.
Trail Stats: Llaca
The Llaca Lake hike takes about 7 to 8 hours starting on the single track above Caserio Cachipampa.
The total hike is 15 km (9.3 mi) and is an out and back trail.
Elevation gain is 850 m (2,788 ft) in 7 km (4.7 mi).
The lake is located at 4,550 m (14,600 ft) and it's best hiked after at least 48 hours of acclimatization.
The Llaca hike starts a few steps up from a white post marked KM 12, across from "The Lazy Dog Inn" sign on the Wilcahuain/Llaca Country Road above Caserio Cachipampa, and is marked with a painted boulder placed on the right side of the trail.
Llaca Trail Bonus, For Serious Trekkers
If you want more of a challenge, you can add a hiking loop to the Vallunaraju Base Camp where you can gain an additional 400 m (1,300 ft) in elevation then descend through the adjacent valley coming out next to an indigenous community called Uquia. This add-on offers two more high glacier lakes and sweeping views of Ocshapalca, Ranrapalca, and Vallunaraju glaciers.
This add-on to Llaca will take a total of 10 to 12 hours by foot or with car support to the Llaca Lake Refugio 5 to 6 hours.
Elevation gain is 1,250 m (4,101 ft).
As the base camp is located at at 4,950 m (16,240 ft) you will want at least 3 days of acclimatization before attempting this hike.
The extension start is located approximately 200 meters before the Refugio Llaca, marked by a small concrete staircase. Follow the staircase and the trail markers up a steep incline for 1.5 hours to a hut at Campo Morrena, located at 4,950 m (16,240 ft). From Campo Morrena follow the trail markers across the sloping rock faces, passing two glacier lakes on the right. To descend follow the sign post marked "A Uquia", which descends half way down the adjacent valley through a quenal forest, passing the National Park border until you reach the main country road next to the Caserio of Uquia. Turn left and a 45-minute walk will bring you to The Lazy Dog Inn, turn right and a 45-minute walk will bring you to the Wilcahuain ruins.
Huaraz City
Huaraz is the capital of the Ancash Department of Peru and home to some 119,000 residents (2017, source). The city hosts a handful of attractions, restaurants, and hotels that are within walking distance of the Plaza de Armas or a taxi ride away.
Food for trekking in Huaraz
Huaraz is known for its unique cuisine. Some of their most authentic and popular dishes include. Picante de Cuy ( roasted guinea pig in a sauce of red spices, served with boiled potatoes). Charqui de chancho and res (roasted pork and salted and dried beef). Pataska (hot soup with a variety of meats like beef, chicken and pork served with baked corn and potatoes). Ceviche de chancho (raw fish soaked in lime with cocho, a typical Andean legume). Jamon Huaracino (salty and dry ham with lemon). You can also try Api de calabaza dessert that is a sweet cream made of mashed pumpkin. A typical beverage is the Chicha de jora (a sour yellow corn). Some of the most ´popular restaurants includes.
Cafe Andino
The food served here is varied, from classic Peruvian favorites to sandwiches and some veggie options. Charming decor with a fireplace and chill music greet you at the door. Go up to the second floor balcony for a nice view.
Address: Jirón Lucar and Torre 530, Huaraz
California Cafe
This cozy cafe is the spot in Huaraz to enjoy North American style breakfasts and international dishes for lunch and dinner. Complement your meal with homemade bread, speciality coffee, or fresh juice. Check out the selection of books in the cafe's sharing library.
Address: Av. 28 de Julio 562, Huaraz
Creperie Patrick
This restaurant's speciality is in its name. Order from an extensive list of savory and sweet crepes. More filling options include pepper steak, chicken dishes, and classic Peruvian meals.
Address: Av. Luzuriaga 422, Huaraz
El Fogón
Founded in 1997, this dining establishment has a Novoandino menu with meat specialties like pollo a la brasa and anticuchos served with a side of fries. Open for lunch and dinner.
Address: Av. Mariscal Toribio Luzuriaga 928, Huaraz
Sala de Estar
Come for sourdough artisan pizzas and artfully presented tapas served on home-baked papa amarilla (yellow potato) bread. The are many vegetarian-friendly options on the menu.
Address: Mariscal Toribio de Luzuriaga 923, Huaraz
Trivio Resto Bar
Order the locally brewed Sierra Andina beer on tap with a casual meal. Burgers, Thai soup, and fettuccine alfredo are on the wide-ranging menu.
Address: Av. Luzurriaga (block 6) – Parque del Periodísta, Huaraz
Hotels in Huaraz
In and around the city's main plaza, backpacker hostels and no frills hotels are the norm. These accommodations are particularly enticing to budget travelers or someone planning a brief overnight stay close to the bus station.
Lodges Outside of Huaraz
Staying at a comfortable lodge away from the bustle of the city is a wonderful opportunity to maximize your contact with nature. Book a few nights to take it easy while adjusting to the high altitude before a trek, or stay after your adventures in Huaraz to enjoy the mountain scenery at a slower pace.
Huaraz Travel Tips
Follow this essential info and advice for planning your trip to Huaraz.
How to Get to Huaraz
Take the bus, fly, or drive to Huaraz from Lima. The city of Huaraz is the region's main transport hub.
Bus
Bus travel is the easiest and most affordable way to get from Lima to Huaraz. Daily departures also permit more trip planning flexibility if you don't know your desired travel dates far in advance.
Direct bus service Lima to/from Huaraz is about 8 hours
Lima – Javier Prado Bus Terminal
Huaraz – bus companies have separate terminals
Cruz del Sur, Movil Tours, and Oltursa are reputable bus companies that offer comfortable service to Huaraz. Upgrading your ticket to VIP generally includes a fully reclinable seat, a personal TV screen with entertainment, and meal/snack service. Travel Tip: Take the overnight bus to Huaraz. That way you arrive to Huaraz early in the morning between 6 to 7 am and can maximize daylight hours to acclimate and soak in the region's beautiful scenery. Luxury buses are around 200 soles (55$USD)return and flights are around 320 soles (88$USD). However the really cheap buses can go as low as 60 soles (16$USD).
Flight
The 45-minute flight from Lima to Anta Airport in Huaraz is the most time efficient transport. Inclement weather may delay flights or cancel them altogether during the rainy season. The price difference between buses and domestic flights is really not that big, so flights are usually the best option.
Car
The journey from Lima to Huaraz in your own transport takes approximately 6 to 7 hours. It´s better to travel during the day because the roads are the curvy and there is limited phone coverage in the mountains.
Huascarán National Park Entry Fee
The Servicio Nacional de Áreas Naturales Protegidas (SERNAP) of Peru manages entrance fees for Huascaran National Park.
Note: The entry fee may or may not be included with the price of your trek or tour. Payment for entry to Huascaran National Park needs to be paid in soles cash.
Altitude Sickness in Huaraz
Soaring elevations of 9,840+ feet (3,000+ meters) greet you in Huaraz and the Cordillera Blanca.
Most treks and tours start early in the morning. Acclimatization in Huaraz is more key than Cusco, arguably. Why? Huaraz is more popular for doing adventure activities at high altitudes. These activities can prove more strenuous and therefore acclimatization is absolutely imperative.
Ideally, arrive at least 2 days before starting any rigorous activity. Don't have anything planned for the first day you arrive, and on the second day consider doing a simple day tour with little tracking. Lago Llanganuco is a great option or simply walking around and exploring the town.
Huaraz Packing List
Don't forget to pack these essential items for your trip to Huaraz:
Passport (valid for at least 6 months after the end of your trip).
Copies of passport, visas, travel itinerary, credit cards (front and back), travel insurance, and emergency contact information.
Trekking or hiking boots/shoes.
Shoes to wear after hikes.
Quick-dry long sleeve top.
Hiking pants.
Rain jacket with hood and/or rain poncho.
Fleece.
Warm down jacket.
Sun hat.
Warm fleece beanie.
Fleece gloves.
Sun hat with brim and chin strap.
Bandana.
Trekking backpack.
Trekking poles (these mountains are rugged).
Water containers (Nalgene or similar water bottle, 32oz or reservoirs).
Flashlight or headlamp.
Lots of sunscreen.
Lip balm.
Insect repellent.
Compressed toilet paper.
Day snacks (nuts, chocolates, energy bars).
Camera.
First aid kit.
Planning Your Trip for Trekking in Huaraz
We encourage travelers going to Huaraz to book services with credible companies to receive quality service, professional guides, and security.
Alternatively, if Huaraz is a leg of your Peru trip you're planning on your own, be sure to ask around for recommended trekking and excursion providers. Not all tourism services are the same and super low pricing may be a cautionary flag of cutting industry standards or lacking proper certification.
Contact Orange Nation Peru to help plan your trip to Huaraz.