All You Need To Know About The Inca Jungle Trail Trek
Written by
Orange Nation Perú
June 13, 2023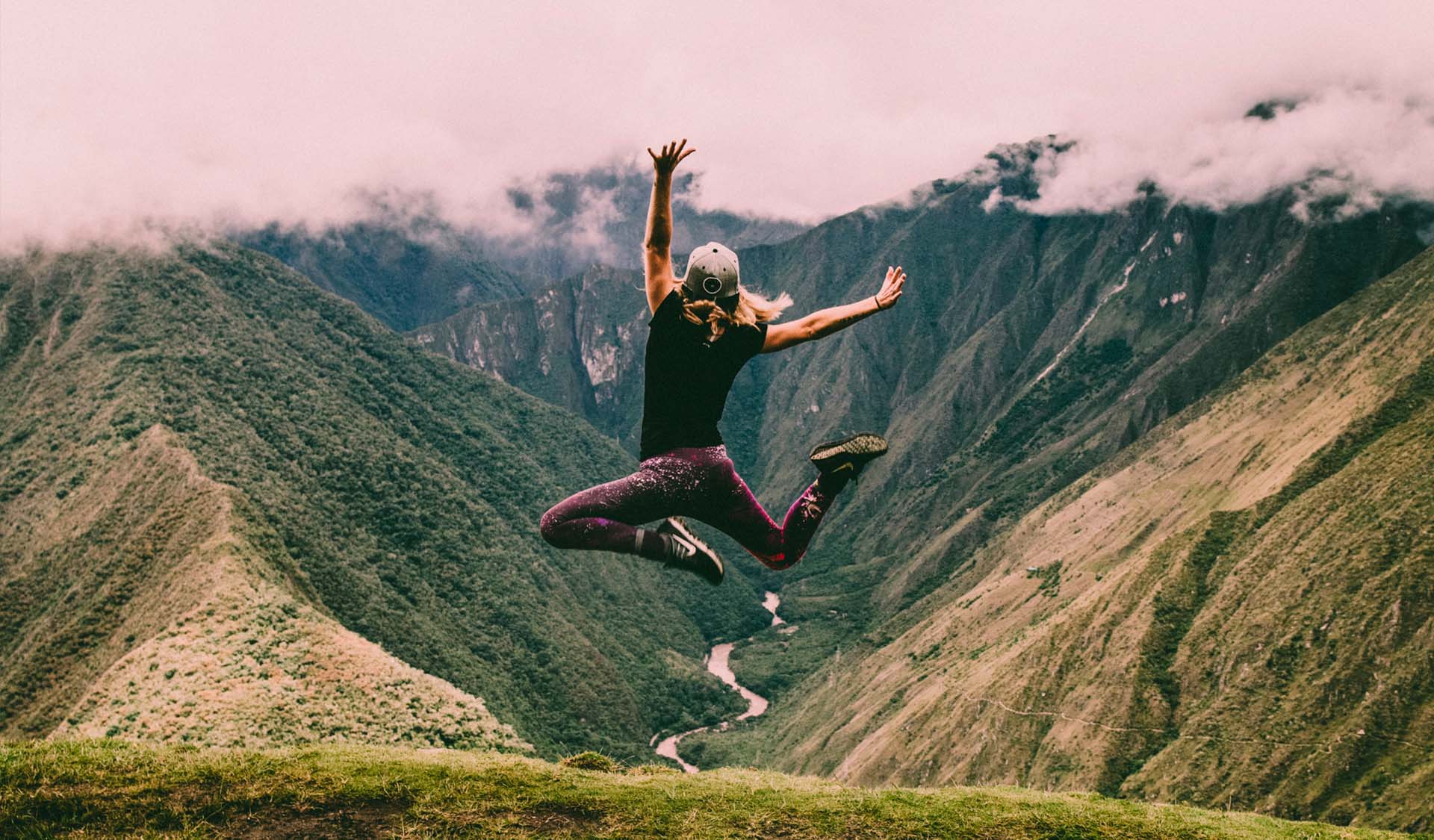 The Inca Jungle Trail is the most adventurous trek to Machu Picchu. This ultimate adventure trek combines the magic of the past with the excitement of modern thrill sports and the incredibly bio-diverse Amazonian flora and fauna. Trek through several microclimates including cloud forest, rainforest and the Andean highlands. Partake in extreme sports like mountain biking, rafting, zip lining and trekking through parts of the Inca Road Network System. The route hugs the Urubamba River, overlooks the valley and climbs up to high mountain passes with the most incredible views before culminating at one of the world's 7 wonders: the Citadel of Machu Picchu.
A step-by step on what to expect on the Inca Jungle Trek
DAY ONE
Our early morning starts with a picturesque drive to the trailhead at Malaga pass at 4,350m/14,357ft above sea level. The adventure begins with a thrilling downhill bike ride on a paved road with hairpin turns, steep drop-offs and oncoming traffic. It may not be a typical mountain biking experience but it´s still a full-on heart pumping ride. Most tour agencies will include full protective gear like protective pads, body armor and a full face mask.
This bike ride is significantly safer than the infamous Yungas Road "The death road" in Bolivia, but the Peruvian government still enforces strict safety guidelines which also include the use of a support vehicle that follows behind the bikers at a reasonable distance. You will drop over 2000m in elevation and stop at the Urubamba River at the foot of the Amazon Rainforest. On our descent, we stop at a lookout point with breath taking views of the mountainous landscape.
Next, we gear up for an exhilarating experience whitewater rafting down the Urubamba river. Paddle for about 90 minutes on class 2 or 3 rapids and if lucky, catching a few large waves along the way. Of cause the intensity of the rapids depends on the time of the year and water levels. The wet season between December- March gets more rain and therefore offers a more thrilling whitewater rafting experience. However, its important to note that frequent rain also means trekking on slippery paths through the jungle and possibly hiking with a few heavy rain showers. Essentially this one positive could impact the other parts of the tour in a negative way. Once we reach the end of our rafting experience, we embark on a short hike to the small jungle town of Santa Maria to check into our unassuming jungle accommodation.
DAY TWO
This is the most challenging day of the entire trek, but is arguably the most scenic and comprehensive Amazon jungle experience. It´s 21km of pure hiking, with paths that at times hug the mountain side. Also cross a few rivers over foot bridges and one river using a cable car. We start the day trekking along the inner edge of the Amazon Rainforest, passing lush vegetation and learning about the unique species of flora and fauna found in this part of the jungle. Below we delve deeper into some of the unique and must-see Amazonian species.
We also trek through parts of what was the Inca Road Network (not the Classic Inca Trail). The Inca road network system covered over 40,000 kilometers (25,000 miles), principally in two main highways running north to south across the Inca Empire, which eventually spread over ancient Peru, Ecuador, Chile, Bolivia, and Argentina. This section of the Inca Trail connected the capital city Cusco to the jungle.
Enroute we stop to visit a coffee plantation and see first hand the coffee making process. The beans are picked, dried, roasted and then grinded into the powder form we use in our everyday coffee. Enjoy a fresh hot cup of coffee in the humid amazon climate. This area is very fertile and is home to other plantations that cultivate things like mangoes, avocadoes, oranges, as well as the cacao bean. The subtropical climate allows the vegetation to flourish. You will also be privy to a diverse selection of bird life, monkeys and spiders. The fauna comes in the most vibrant exotic colors.
The hike ends at the soothing and therapeutic hot springs of Colcamayo. This day is also known as the party night of the trek. After trying an interesting brew of "Inca Tequila", you have the option of going out to the town´s local hotspot to rave it up until the sun comes out. Beware though, the next day starts very early, a bad hangover and lack of sleep could put a damper on the third day.
DAY THREE
This day is interesting because the itinerary really depends on your tour operator or preferred route. With Orange Nation you can choose to zipline your way over the valley or follow an amazing trail that takes you to ancient historical sites.
The thrilling ziplining options is 3 long ziplines, that fly over the picturesque Urubamba Valley. This is then followed by a walk on a suspension bridge with spaced out steps and only using ropes for balance. It can induce acrophobia if this is an issue for you. At the end, is a short zipline to your vehicle to take you to Hydroelectric.
The other option, is a long hike through a portion of the original Inca Trail, passing cloud forest towards the Puncuyoc Pass. After over 3 hours of a steep incline, we follow a 20 minute path that takes us downhill to the Inca archeological site of Llactapata (2,700m/8,907ft). This incredible site is only 5km from Machu Picchu and you get your first panoramic views of Machu Picchu Citadel and the surrounding Huayna Picchu and Machu Picchu Mountains.
Both options end with an easy trek from Hydroelectric along the train tracks with the gushing Urubamba River and lush towering mountains on your right. We end our day in Aguas Calientes (Machu Picchu Pueblo) and spend the night in a hotel to prepare for a memorable next day at Machu Picchu.
DAY FOUR
Even though, its said that its not the destination but the journey that counts, okay granted this journey is a truly unforgettable adventure, however, if the destination is Machu Picchu, then the destination is absolutely what counts most. The last day of the trek is completely reserved for the exploration of the Inca Citadel of Machu Picchu. After a restful night in a hotel with a hot shower, wifi and a hot breakfast, the day starts really early to catch the sunrise at the citadel. You can either hike up a short, but extremely steep set of steps or catch a shuttle to spend the day exploring the sacred site of Machu Picchu.
Inca Jungle Trek – The Basics
How long is The Inca Jungle Trail?
Generally, the Inca Jungle trek is 4D/3N. Although it is possible to complete the trek on a 3D/2N itinerary on request when doing a private tour.
The total trekking distance on the Inca Jungle Trail is approximately 50km/31miles. This distance ultimately depends on the tour company and what route you decide to take. The walking is split over three days with Day 2 being the longest distance (10-22 km/6-14miles) with around 6 hours of hiking.
Activities on the Inca Jungle Trek?
Day one is mostly 3 hours of cycling for 65km/40miles down Malaga pass. This is followed by two hours of whitewater river rafting down the Urubamba River. Its important to note that rafting is dependent on season and river condition, this activity will be skipped if the conditions are not suitable. Most river rafting tours are on fairly easy Grade II-III rapids, but some companies have the option for more challenging, Grade IV rapids.
The second day is almost 7 hours of hiking, passing many fruit plantations. Eat the fruits straight from the trees and enjoy a little bird watching along the way. At the end of this long but gradual hike you get to relax and soak your tired muscles at the hot springs of Cocalmayu.
Day 3 includes 3 hours of hiking through a portion of the Inca Trail and visiting the Inca Archeological site of Llactapata. This is followed by another couple of hours of hiking on flat terrain along the train tracks to the small town of Aguas Calientes (Machu Picchu Pueblo). If you choose the alternate route, you skip the first section of the hiking and enjoy a thrilling ziplining experience over the picturesque valley.
The last day is exclusively reserved for Machu Picchu, to explore and discover as much as you want. It is also possible to add an extra hike up Huayna Picchu Mountain for panoramic views of the citadel and to visit a few secret temples located at the top.
Accommodation on The Inca Jungle Trail?
You will spend day one and day two of the trek in the small jungle towns of Santa Maria and Santa Teresa. These towns themselves are pretty small and unassuming and this is also reflected in the accommodation available. You can expect lodgings that only offer the basics, like a clean bed, maybe a shared bathroom, a cold shower and slow internet. This does however give you the most authentic jungle experience, surrounded by lush vegetation and an extensive variety of brightly colored bird species.
The third night is in Machu Picchu Pueblo which is a major tourist hub. The 2500 tourists that visit Machu Picchu daily stop over in this town. Therefore, you can look forward to all types of accommodation, from basic backpacker accommodation to the most luxurious 5* hotels. Check with your tour provider what kind of accommodation is included in their package. You can always upgrade if the establishment doesn't match your preferred standards.
Unique Bird Species on the Trek
This list is by no means comprehensive, but these are some of the most incredibly unique birds you can look forward to.
Andean Condor
The Andean Condor is not just iconic in Peru but throughout the world. It is the largest bird of prey in the world with a wingspan of 3.3m and a weight of 15kg.
Andean cock of the rock
The Andean-cock-of-the-rock is the national bird of Peru. It is a brightly colored bird where the male has a bright orange plumage and a distinctive crest on its head. It´s found in the cloud forest section of the Andes.
Peruvian Pigeon
This bird is unfortunately a threatened species. Its also found in the cloud forest and is known for its distinctive purple plumage.
Jungle Flora
Abutilon
The flower, nicknamed the Chinese lantern, features bell-shaped petals in yellowish orange with striking deep red veins. It is renowned for its ease of care, making it a perfect addition to any domestic garden, bringing a touch of Peruvian beauty to your home.
Mirabilis Jalapa –
The Marvel of Peru is a versatile flower that displays a variety of colors. It's one of the prettiest fauna in Peru. Its tubular petals open in the early evening and close again in the morning.
Machu Picchu Bamboo
Chusquea Delicatula is named after its delicate leaves and slender stalks. It´s a rare bamboo species found mostly draping down the walls of Machu Picchu, with stocks growing up to 12 feet long. Sadly, bamboo is endangered due to ongoing deforestation.
Huarango
This tree is believed to possess the deepest roots globally, reaching up to 70 meters deep. It supplies water to itself and surrounding plants. Its fruit, known as huaranga, is highly nutritious and was reportedly crucial for pre-Columbian civilizations during periods of drought.
Arrow Leaf Elephant Ear 
With leaves that can grow up to three feet long, arrow leaf elephant ear is commonly utilized in reforestation to safeguard early growth and control weed growth. It's one of the most functional fauna of Peru. The corm, resembling small potatoes, is harvested and remains a key ingredient in Peruvian cuisine.
Muña
Muña, a plant related to mint, grows abundantly in Cuzco's highlands. It serves as a staple in traditional medicine, supporting bone strength, enhancing the immune system, and aiding altitude sickness due to its high calcium, iron, and phosphorus content. You will find Muña tea in many hotels and restaurants.
Bixa Orellana
This plant is the holy grail of all plants in the jungle. The indigenous people of the jungle use it as an aphrodisiac, a condiment in many dishes, sun protection and the natives also apply it on their face for certain rituals. It is also the bright orange plant used to paint the faces of the many tourists that partake in the Inca Jungle trek. Additionally, it plays a huge role in the food industry and it is scientifically dubbed E-1606. Its a natural food colorant and used in things like cheese (cheddar/mimolette), margarine, butter and smoked fish. Its medicinal properties are endless. Basically this the king of all plants in the Amazonia.
Itinerary for Inca Jungle Trek to Machu Picchu
Day 1: Cusco – Abra Malaga Pass – Santa Maria
DAY 1: CUSCO – OLLANTAYTAMBO – ABRA MALAGA – SANTA MARIA (Biking and rafting)
Our adventure starts at 6 am! Your guide will pick you up at your Cusco hotel in our private van for the drive to Ollantaytambo where you have time for breakfast. Then we drive by uphill to reach Malaga pass, (4,350m/14,357ft), where we have a few minutes to prepare our biking equipment and ourselves before we start our 3-hour journey, cycling downhill towards Santa Maria (1,500m/4,950ft). You will enjoy the different microclimates such as the highland, cloud forest, rainforest and the two stunning archaeological sites of Incatambo and Wamanmarca. In the afternoon, we will be able to raft in the Urubamba River for two hours, then back to our countryside lodge for tea, appetizers and dinner.
Meals included: Lunch – Dinner
Accommodation: countryside lodge
Minimum Altitude: 1500m/4,950ft
Maximum Altitude: 4,350m/14,357ft
Difficulty: Moderate/Challenging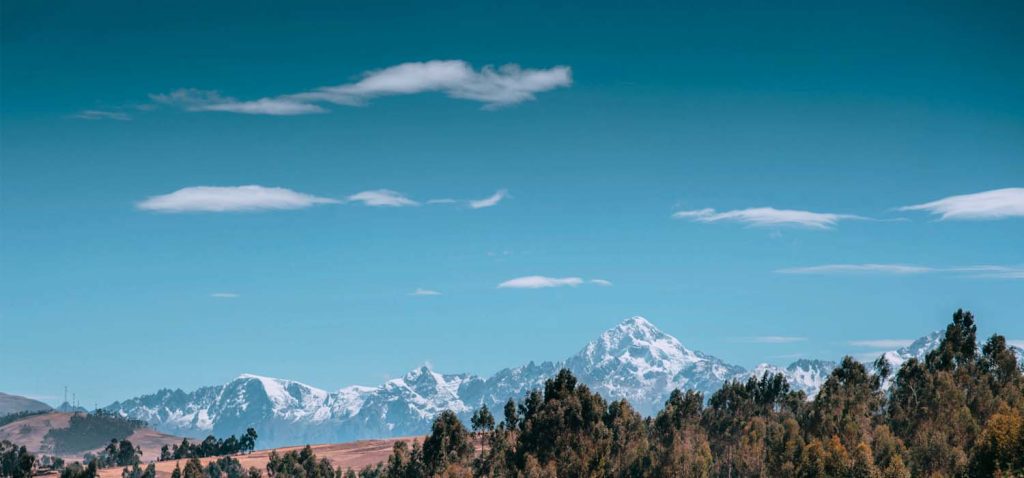 Day 2: Santa Maria – Santa Teresa
Today after an early breakfast, we walk for seven hours through the rainforest, enjoying a myriad of fruit plantations such as avocados, maniocs, oranges, mangoes, cacao, coffee and coca shrubs. We arrive at Quellomayu for lunch. Then we walk up a moderate hill through a portion of the original Inca trail towards the hot springs of Cocalmayu. Once we arrive, we will enjoy the medicinal hot springs and relaxing after our long walk. Afterwards we drive to Santa Teresa where we spend the night at our country lodge.
Meals included: Breakfast, Lunch & Dinner
Accommodation: Country lodge
Minimum Altitude 1500m/4950ft
Maximum Altitude: 1,900m/6,270ft
Distance: 14kms approximately
Difficulty: Moderate
Day 3: Santa Teresa – Hydroelectric Station – Aguas Calientes
Today is the toughest and most beautiful day of our trek. After breakfast, we drivefor 30 minutes to Lucmabamba (2,000m/6,600ft), where we start walking up a moderate hill for 3 hours through portions of the original Inca Trail and the cloud forest towards the Puncuyoc Pass. We then walk downhill for about 20 minutes to Llactapata 2,700m/8,907ft, an Inca site located straight in front of the Citadel of Machu Picchu! The panoramic views from this place are breathtaking.
You can see different angles of the Citadel of Machu Picchu, the mountains of Machu Picchu, Huayna Picchu and the Aobamba canyon where another section of the Inca Trail is visible. For the next couple of hours we walk downhill, arriving at the hydroelectric plant for lunch. Afterwards we hike for couple of hours through the National Park of Machu Picchu to Aguas Calientes, or take the train, enjoying the amazing location of the Citadel of Machu Picchu!
At Aguas Calientes, after we check into our hotel, there will be time for sightseeing or shopping in this picturesque little town. We enjoy dinner together in a restaurant before we turn in for the night.
Meals included: Breakfast, Lunch & Dinner
3* Accommodation: Hotel Ferre´ Machu Picchu
Minimum Altitude: 2,000m/6,600ft.
Maximum Altitude:2,850m/9,407ft
Distance: 16kms approximately
Difficulty: Moderate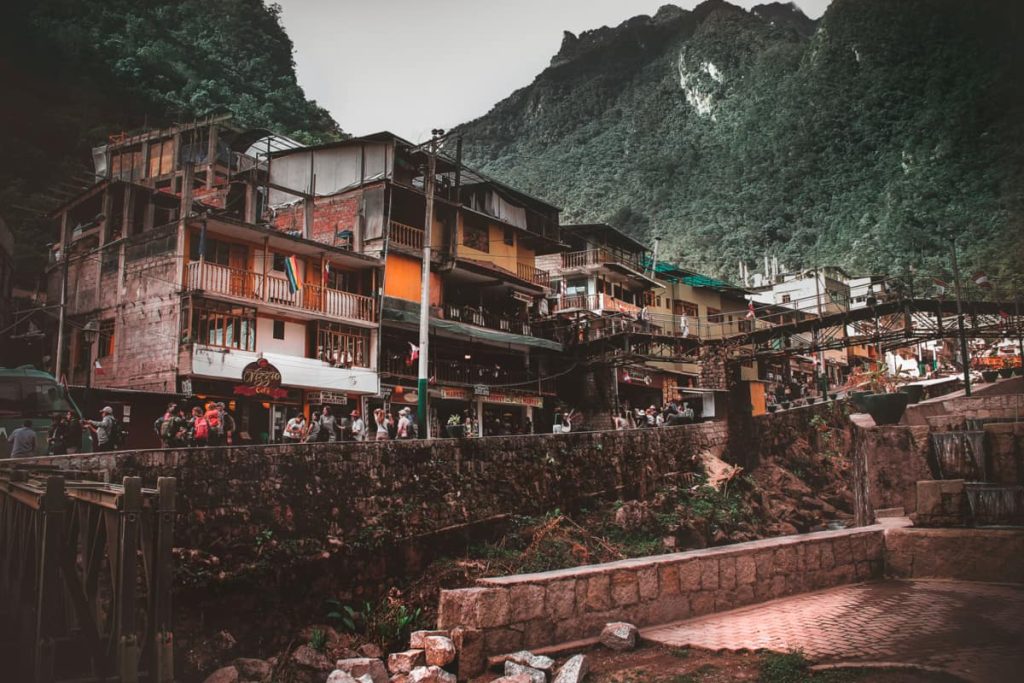 Day 4: Aguas Calientes – Machu Picchu – Cusco
This is the day you've been waiting for! After an early breakfast at your hotel, you'll take one of the first busses up to Machu Picchu, so that you can be there to witness the sunrise. It is a truly extraordinary site and not something you'll want to miss! Your guide will give you a tour, which takes about two hours. You will see most of the important parts of Machu Picchu Citadel. You will also learn about how Machu Picchu is divided into three sectors: agricultural, residential and religious.
After your tour, those who have booked in advance for an extra hike up Huayna Picchu will have time to enjoy those views on their own. When you have had your fill of the exceptional views of Machu Picchu, you will take the bus back down to Aguas Calientes for lunch (not included). Depending on your train departure time, you may also have time for some shopping, sightseeing or a visit to the museum or hot springs.
The Expedition train will take you back to Ollantaytambo at 2:55pm or 3:20pm, following the spectacular Urubamba River. Close to Aguas Calientes, the canyon is narrow and the river has many beautiful sections of whitewater. You can also see Wiñay Wayna from the train, if you look up high on the steep canyon wall! Back at Ollantaytambo, your driver will meet you at the exit from the train station to take you back to your hotel in Cusco in our private vehicle. You can expect to arrive at your hotel by 7:00pm.
Meal included: Breakfast
Minimum Altitude: 2,040m/6,727ft
Maximum Altitude: 2,440m/8,052ft
Difficulty: Easy
Should I Do The Inca Jungle Trail?
The trek naturally appeals to the adventurous types who like thrilling adrenaline-filled experiences. Booking the Jungle Trail through a tour company allows you to do multiple activities in a few short days.
If you are looking to concur some fears, especially a fear of heights. Than this might be the best opportunity to take that leap and join this epic adventure.
If you´re looking for treks that are exclusively hiking, then check out a few alternatives below.
Alternative treks to Machu Picchu
Classic Inca Trail (or the 5-day Inca Trek or Short 2-Day Inca Trail)
Salkantay trek
Lares Trek
Best Time for an Inca Jungle Trek
There are two main seasons in the subtropical Peruvian Andes:
A dry season – May through to September
A wet season – October to April
The Inca Jungle trek can be completed all year round. However, heavy rains during January and February often lead to landslides, which often affect the trail and road that connects Santa Maria with Santa Teresa. Because of this, the Inca Jungle trek is often closed between January and February.
The best time to do an Inca Jungle trek is either during the dry season or in the dry season shoulder months of March / April and October / November. The latter shoulder months are particularly good if you are keen to do some river rafting in Santa Maria.
The trail is busier during the dry season. That said, it never reaches the capacity of the Inca Trail, so you can still enjoy this amazing trek minus the usual crowds.
Temperatures are fairly consistent all year round, with warm days reaching temperatures of 20°C (68°F) and higher. The nights and early mornings are cold (with temperatures often decreasing to 0°C / 32°F and lower). In the dry season, temperatures sometimes drop below 0°C / 32°F too.
You will want to bring trekking clothing that you can layer up or down. Daily temperatures fluctuate and your body will heat up quickly when you're active. See the packing list below for details on layering.
Finally, microclimates are the dominant weather force in the Andes. Make sure to bring some wet weather gear, like a basic poncho. It is possible to encounter rain at any time of the year.
Can I Get Altitude Sickness on the Inca Jungle Trail?
The Inca Jungle trail is technically a high-altitude trek. In reality, the amount of time you spend at altitude is very short.
The highest altitude you will reach is Abra Malaga Pass at just over 4,300m / 14,108 ft. From this point, you will descend relatively quickly while cycling. You will end the day at a rather low altitude for the Andes, just under 1,200m / 3,937 ft.
For the rest of the tour, the trail undulates but never goes higher than 2,000m / 6,562 ft. Machu Picchu itself sits at 2,430m / 7,972 ft, which is still relatively low.
This means that altitude sickness on the Inca Jungle trail is rare. It's nowhere near as prevalent as some of the other trails in this region where trekkers spend good portions of time hiking over 4,000m / 13,123 ft passes.
You are in fact at a greater risk of succumbing to altitude sickness symptoms before you start the trek. To go to Machu Picchu visitors land in Cusco which sits at a breath stealing 3,400m / 11,155 ft.
Experiencing mild altitude sickness, like headaches or nausea, is common for visitors in Cusco. It is important that you spend a few days acclimatizing at this altitude before going any higher.
Another good option, if you have the time, is to immediately descend from Cusco into the Sacred Valley, which is a good 1,000m / 3,281 ft lower. You can rest here for a few days before returning to Cusco to join your Inca Jungle trek tour group.
Looking for a day tour? Here are my 5 favorite day tours around Cusco:
Rainbow Mountain day trip
Sacred Valley with ATV
Chinchero, Moray and Salt Mines day tour
Humantay Lake day tour
Inca Jungle Trek Packing List
The packing list for an Inca Jungle trek is similar to most other multi-day treks. Tour operators generally provide all the adventure sports material, so there is no need to bring your own.
You MUST take your original passport a photocopy is not sufficient.
walking poles
well worn-in walking boots
waterproof clothing
small lightweight umbrella / poncho
waterproof bags
toilet paper
small towel
basic personal toiletries
water bottle
Warm Clothing For The Night Time
Personal Medication and Basic First Aid Kit
Camera and Spare Batteries / Memory Cards
Snacks
Torch (Flash-light)
For the sun: Tropical Strength Sunscreen
Swimwear for Colcamayo hot springs
Flip Flops / Thongs / Sandals
How fit do you need to be for The Inca Jungle Trek?
The Inca Jungle Trek is a diverse adventure with many different activities – trekking, cycling, white-water rafting, and zip lining. The trek is definitely better suited for the young-at-heart adventure seeker.
The mountain bike ride is all downhill which means even less experienced cyclists can manage this trek. The total hiking distance for this trip is 49km / 30 miles over three days. A lot of this trek is over flat terrain with no high-altitude passes.
In conclusion, some fitness is helpful but there's no need to overdo it in preparation.
Costs of Inca Jungle Trek
Over the last few years, the number of trekking companies offering the Inca Jungle trek has increased significantly.
Some operators have great offers, use fantastic cycling equipment and provide a brilliant service overall. However, as the route is not regulated, there are a few sharks in the market to watch out for. These guys offer cheap tours that definitely cut corners (hopefully not ones on Abra Malaga Pass!).
Prices for the Inca Jungle trek range from US$250 per person with the cheapest operators to US$700 per person with the best operators. Overall, it's a good idea to budget between $400-$600 for a typical Inca Jungle Trek tour.
Inca Jungle Treks usually include:
Transport throughout the trek.
Lodge on the trek and a night in a hotel in Aguas Calientes.
Cycling equipment.
River rafting guides and equipment .
Machu Picchu entrance ticket.
Shuttle bus to Machu Picchu
The train and private vehicle for journey from Ollantaytambo train station to Cusco
The following are usually excluded from your Inca Jungle Trek Price:
Hot spring
Extra hike of Huayna Picchu / Machu Picchu Mountain
Please Note: The best trek operators will have much better equipment, service, accommodation, and guides. So, it's a better idea to choose a reputable tour operator with good services and who compensates their support staff (office admin, guides, porters and chefs) well.
Trekking Insurance For The Inca Jungle Trek
Insurance for your trek to Machu Picchu is a must since most operators will require you to carry sufficient travel insurance for your trek. Ensure that the insurer you choose covers mountain biking and white-water rafting.