Step By Step To Camping On The Inca Trail
Written by
Orange Nation Perú
June 12, 2023
This is our Step by Step guide to camping on the Inca Trail with Orange Nation. We answer all the FAQ´s about camping on the Inca Trail. Find out for yourself why people regard camping with Orange Nation as one of the most comfortable and luxurious experiences they have ever had.
1.What to expect from Inca Trail campsites
Inca campsites are regulated in an effort to minimize the environmental impact. You cannot just arrive at a random spot and set-up camp. All campsites are clearly marked and have to be booked in advance by an authorized tour operator, after they book your Inca Trail permits. There are about 9 campsites in total, all with a very similar set-up. However, the distance you have to walk on each day is influenced by campsite selection. Additionally, campsites have different views of the scenery and landscape, making some spots more popular than others. Campsites include basic amenities like toilets (not the most sanitary), large open areas and a couple of them have cold showers.
2.Options for campsites on the Inca Trail
There are 9 campsites on the Inca Trail. Namely: Mesqay, Rumi Chaca Huayllabamba, Ayapata, Llullapata, Pacaymayo, Chaki Cocha , Phuyupatamarca and Wiñaywayna. Tour operators cannot offer you the option to choose your own campsites because they can only book what is available. And they only know what is available after booking the Inca Trail permits.
Option1 : Aypata- Chaquicocha-Wiñay Wayna
This is the most coveted group and the campsites are mostly less crowded. Some of the campsites are at higher altitudes and need a trekker that is sufficiently acclimated to the altitude. There are limited tickets available and they move fast. If you wish to use these campsites then we recommend booking the Inca Trail several months in advance. For those looking for peace and tranquility than this is the ideal campsite combination.
Option 2: Wayllabamba- Pacasmayo -Wiñay Wayna
Tour operators mostly choose this option. Among other reasons, there are plenty of spots available and it also gives the hiker some time to slowly adjust to the altitude. On the other hand, these campsites are usually crowded, especially during high-season. You also have less time to visit the must-see site of Wiñay Wayna compared to option 1.
Option 3: Mesqay-Chullucha pata-Puyupatamarca
Normally, if you book the last available tickets and most campsites are taken, you will very likely end up getting this combination. There is however a silver lining here, because companies seldom go for these campsite, the campsites are virtually deserted and passing fewer people in various spots along the trail. The downside is really the logistics of the third campsite. Phuyupatamarca is 6 hours from Machu Picchu, which means you will miss out on an amazing opportunity to watch the breathtaking sunrise over Machu Picchu. However, Phuyupatamarca is actually an incredible Inca archeological site. It´s located high in a cloudy mountain. It is one of the most beautiful viewpoints with panoramic views of the entire Urubamba Valley.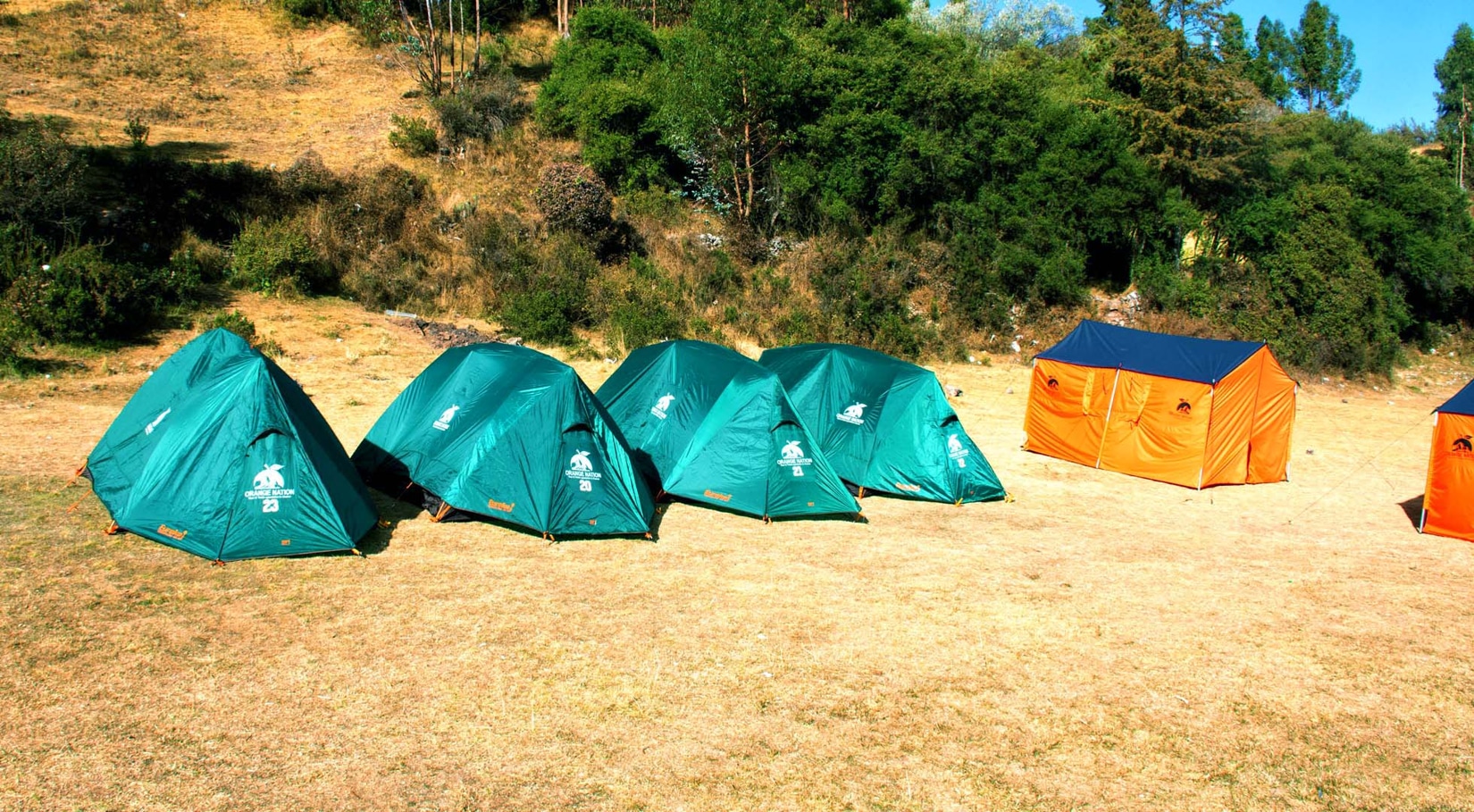 2. Camping Equipment
The trekking team brings along with them a large dining and kitchen tent. At camp the interior is then decorated and set-up with chairs, a table and cutlery. This is where everybody gets together for meals and to socialize, getting to know each other along the trek. Furthermore, the best amenity has to be the portable camping toilet. The toilet is private and sanitary and a welcomed relief from the government supplied facilities which are not always clean. The porters always make sure to set it a comfortable distance from the sleeping tents, but not so far that its a challenge to go to , especially during the nights.
Sleeping tents are 4 season igloo waterproof and spacious Eureka tents. Our large tents sleep just 2 people, leaving plenty of leg room to spread out and extra space to store their duffel bags. In addition, a complimentary foam mattress is added, to insulate you from the ground.
The equipment is of the highest quality and offers a deluxe and luxurious camping experience.
Check out: Our Treks into Machu Picchu! The best way to avoid the crowds, with fixed departure reduced price available!
3. What about air mattresses, sleeping bags and walking poles?
You can always bring your own air mattress, sleeping bag and walking poles. However, these items can be cumbersome in your luggage. Trekking poles are even more so, and can unnecessary trigger airport security alarms. You can easily rent any of the above from Orange Nation for just $20USD per person per item. The Therma Rest Air mattress adds an extra layer of comfort, whereas, walking poles give support to your knees and grip when traversing on slippery and steep inclines and declines.
4. Toilets along the Inca Trail.
To start with, toilets on the Inca Trail are not a version of modern plumbing, so be prepared. Firstly, flushing toilet paper is not permitted anywhere in Peru, which often leads to a potent smell when entering the restrooms. Toilet paper also does not come standard in a Peruvian bathroom. So, we highly recommend bringing your own roll of toilet paper with hand sanitizer. Another important thing to note is that flushing toilet paper is not allowed in Peru. Toilet is usually placed in a bin adjacent to the toilet. However, when a bin is omitted, you will find piles of used paper in the corner of the room. Its a gag inducing experience, that is really unpleasant.
Toilets are standard in the campsites. But once you start trekking, you will sporadically find toilet blocks that are hidden from the trail. There are periods where you might be forced to use natures restroom, squatting behind a tree, stump or rock. The toilets are also very interested , they are built to the ground and you kind of need to squat, aim and make sure you don´t miss.
Luckily for those trekking with Orange Nation, we bring our own private, sanitary and toilet. Its use is specifically reserved only for Orange Nation trekkers.
All in all, whichever tour operator you go with, we recommend triple checking that they provide a portable private toilet.
5. Food on the Inca Trail?
Food on the Inca Trail is highly dependent on the tour operator and their standards. With Orange Nation, you can expect a dining experience that can rival the best restaurants in the Cusco region. Each trip takes a well-trained chef and assistant to prepare healthy and nutritious meals. Our menus are designed by Fortunato, our head chef, who has worked in some of the best restaurants in Cusco. Each year we run a 1-week training course for our cooks, re-enforcing food hygiene and updating our menus. You can look forward to abundant, nutritionally dense and freshly prepared meals. There are 4 standard meal times, breakfast, lunch, afternoon tea and dinner. There is also a wide variety of local drinks to accompany the meals, like herbal teas and fresh juices. Below we provide a sample menu that is subject to change without prior notice.
Each trip takes a well-trained chef and assistant to provide you with healthy and nutritious meals. Our menus are designed by Fortunato, our head chef, who has worked in some of the best restaurants in Cusco. Each year we run a 1-week training course for our cooks, re-enforcing food hygiene and updating our menus.
Breakfast:
Always start with a hot cup of coca tea served whilst snuggled inside your tent. Because of the energy needed for the hike, they are always abundant. Here is a short list of some the dishes you can look forward: Oatmeal, toast with butter and jam, pancakes, fruit salad, yoghurt, omlettes and on the 3rd and last breakfast of the trek, enjoy a surprise breakfast cake baked in the great outdoors.
Local Dishes:
Lomo Saltado (rice, steak and fries), Seco de frejoles (beef and bean stew), Arroz con pollo (rice and chicken), Papa la Huancaina (potatoes with spicy yellow sauce, lettuce, olives and boiled egg), and soo much more.
International dishes:
Stuffed avocados, grilled chicken drumsticks, steamed trout, Asparagus dish, Spaghetti with a variety of sauces, beetroot salad, stuffed chicken and different fresh salads to accompany the meals.
Desserts:
Chocolate Pudding, Maizena ( hot dessert) and peach slices with jelly and wine.
Soups:
Quinoa soup, vegetable soup and corn soup.
Drinks:
Herbal teas (chamomile tea, lemongrass, English breakfast tea, black tea and coca tea). Juices: Berry juice, passion fruit juice.
Note: Most meals can be adjusted to accommodate most dietary requirements. You need to communicate any dietary restrictions at booking.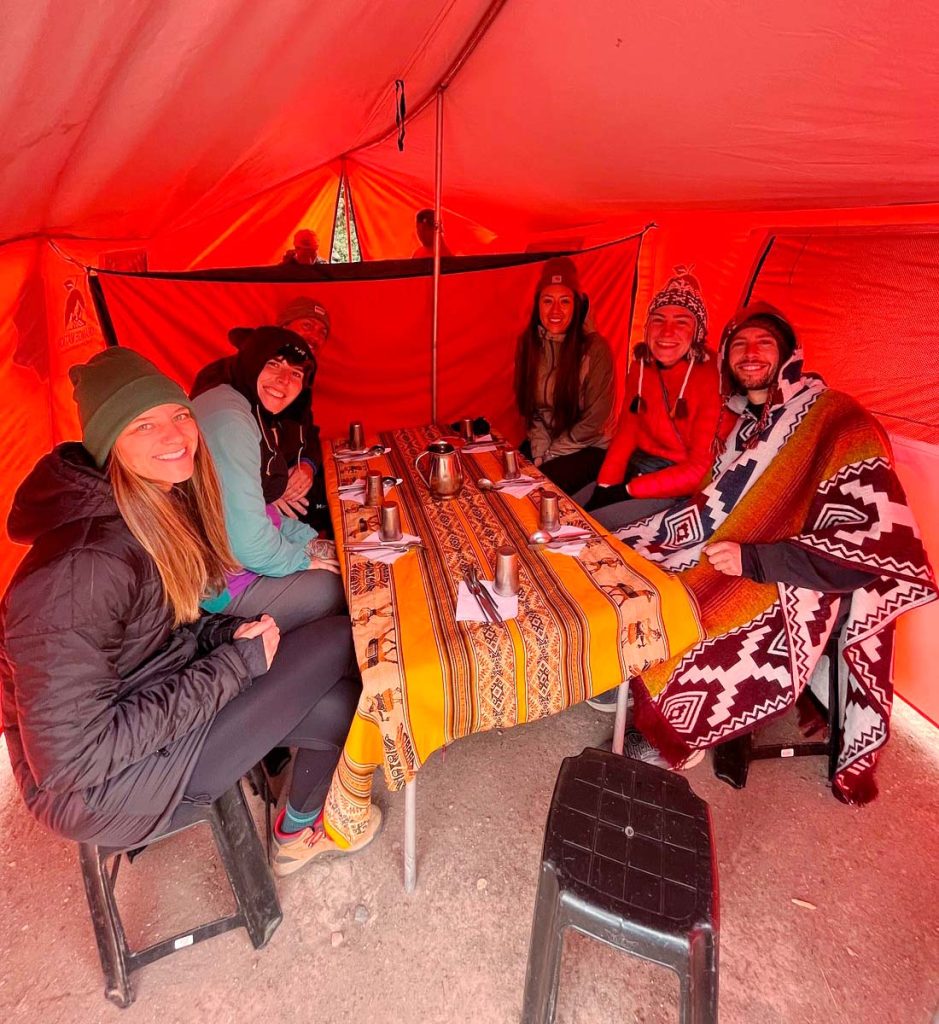 6.Who carries my luggage?
The Inca Trail uses porters to carry luggage , camping gear and much more. During your briefing the day before, your tour operator will hand you a duffel bag to pack only the essentials for your trek. The duffel bad cannot weigh more than 7kg/15lbs including the weight of the sleeping bag. Sleeping bad typically weigh around 2kg/4lbs. The porters are there for your convenience, so you can do this moderate to challenging trek without adding to difficulty by carrying a heavy load. You only have to hike with your small-day pack with day to day essential because the porters are always ahead of you on the trail. Most importantly, the weight limit has been set by the Peruvian government to protect the health of the porters.
Unfortunately, horses and mules are not permitted on the Inca Trail because they cause serious damage to the stone and structure of the trail. So, being able to use porters is a true blessing. We cannot praise these hardworking individuals enough. Not only do they carry all the luggage, they also work behind the scenes setting up camp, helping with meal preps and all done before you arrive at camp. They are one the reasons for the seamless and effortless trekking on the Inca Trail.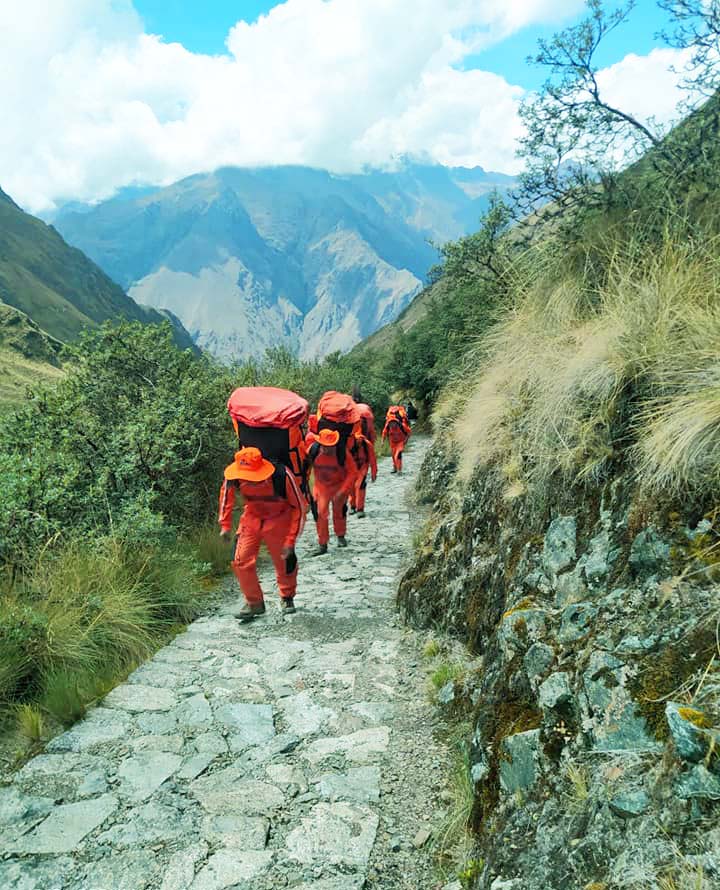 7. What about drinking water?
Generally, tap water is not safe to drink in Peru. We recommend bringing a large (1,5 liter) refillable water bottle. Disposable water bottles are not permitted on the Inca Trail and at Machu Picchu. If you have smaller bottles, then its a good idea to bring more than one. It´s imperative to keep drinking fluids at high altitude because you can easily get dehydrated. We provide boiled water at camp after meal times to refill your water bottles.
8. Which meals are not included?
Breakfast on the first day is not included, as well as lunch dinner on Day 4. Everything other meal is provided. We recommend going through a tour operators itinerary before booking. The itinerary goes more into detail about what´s included and not included.
9. Can I stay at a hotel instead of camping on the Inca Trail
The simple answer here is not. What makes this trail special is the fact that it has kept the original built of the Incas more than 600 years ago. There are no modern constructions anywhere on the trail. However, if you choose the 5-Day Inca Trail, after day for you get a shuttle bus to Aguas Calientes to spend the night at a hotel before coming back to explore Machu Picchu the next day.
10. Packing list for the Inca Trail
PASSPORT: You MUST take your original passport, a photocopy is not acceptable. (Keep it in a plastic bag, in case of rain).
SLEEPING BAGS:
INFLATABLE MATTRESSES
WALKING POLES
WATERPROOF, WELL-WORN IN WALKING BOOTS
WATERPROOF CLOTHING
PLASTIC BAGS
TOILET PAPER
SMALL TOWELS AND BASIC PERSONAL TOILETRIES
WATER BOTTLE
WARM CLOTHING FOR THE NIGHT TIME: Fleece, long pants, woolen hat, gloves.
THERMAL UNDERWEAR
WALKING CLOTHING – YOU NEED TO LAYER UP: e.g. zip off trousers, fleece, T-shirts.
PERSONAL MEDICATION AND BASIC FIRST-AID KIT: Band-aids, blister kit, Imodium, Panadol, rehydration salts, and any other medication prescribed by your doctor.
CAMERA AND EXTRA BATTERIES, MEMORY CARDS: Please note: there are no electrical outlets on the Inca Trail so make sure you fully charge up/or have spare batteries!
SNACKS: Chocolates, chips, crackers, granola bars, or energy bars, etc. Additional snacks are provided during the trek, but you may like to bring some extras, just in case.
FLASHLIGHT
SUNSCREEN, SUNGLASSES, AND SUNHAT
INSECT REPELLENT
ANTISEPTIC HAND GEL
SWIMWEAR FOR AGUAS CALIENTES HOT SPRINGS
FLIP FLOPS / SANDALS: If you wish to have a shower on the third night.
EXTRA MONEY: For tips, extra drinks, and souvenirs.
Check out: Our Treks into Machu Picchu! The best way to avoid the crowds, with fixed departure reduced price available!